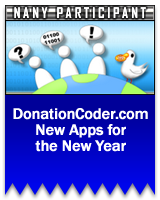 NANY 2022: ENTER NOW!
The NANY 2022 event is now closed.
If you are a coder, any new program (or addon) that you have released in the previous year, which is freeware/donationware for home users is eligible.
And if you are not a coder, you can still participate by helping coders with ideas and testing.
To join in the adventure, visit: The NANY 2022 forum section.
---
NANY contests:
---
Process Tamer: 5 Stars

This program [

Process Tamer

] may be extremely valuable to you if you work with processing-intesive applications that often make your system unstable. For myself, I have found that process tamer works really well in preventing some of my MS Excel macros that routinely crash my machine form doing so.
You are viewing a specific blog item. Click here to return to the main blog page.
The NANY 2012 Event at DonationCoder.com

Welcome to the final official write-up for the DonationCoder.com NANY 2012 event!

NANY stands for "New Apps for the New Year". It's an annual event here on DonationCoder.com where we challenge coders of all experience levels to release a brand new freeware / donationware application to celebrate the coming of the new year. It represents the playful and generous spirit of the DonationCoder.com site and the people who visit it.

Some of the releases are full featured polished, professional-level applications, while some are just experiments by new programmers.

Click

here

to discuss the NANY 2012 event and learn more, or watch videos of the entries below. Click the program name to visit the forum thread for that application to discuss and download it. As always, if you like what you see, consider making a donation to the author.

---

Start with these entries
There are some real showstoppers here -- some very polished cute little programs and some unique power tools.


---

---

Ethervane Echo

Written by DonationCoder member

tranglos

,

Ethervane Echo

is a lightweight clipboard extender designed to speed up typing repetitive text. For writers, translators and coders. Fast and lightweight, with instant search. I have to say, the amount of time and effort that tranglos put into this program really shows. The help file is extensive and documents the program extremely well.

---

Qatapult

Written by DonationCoder member

ecaradec

,

Qatapult

is a keyboard launcher reminiscent of the QuickSilver program on Macs that has this super nice feature that allows to run commands on objects with completion on object and command and possibly extra arguments. It also has a very slick and customizable design UI. Ecaradec has adapted ideas from QuickSilver and made them available for Windows as Qatapult.

---

MPQ Screensaver Builder

Multi Photo Quotes Builder, by DonationCoder member

mouser

, let's users package screensavers for their friends and family that contain images and quotes of their own creation. Based on mouser's

Multi Photo Quotes

screen saver engine, it offers a high degree of customization on the installed machine, and has unique abilities to tile images on multiple monitors and support random text quotes integrated with the images.

---

Web Link Captor

Mouser's

Web Link Captor

is a program that takes a list of plaintext items, and builds an output document containing a list of url-linked results based on web searches for the items. It's a way to quickly build a clickable list of items from just their names, suitable for posting on your blog or a forum, etc. This program took some

time

, folks. You'd normally expect to pay for software that is this useful and polished. Being able to obtain software like this for free is one of the great things that DonationCoder offers the virtual community.

(You can also watch a longer tutorial

here

).

---

Image Grid

This tool, by DonationCoder member

vlastimil

, allows you to take several smaller pictures and create one big image with all the smaller pictures arranged in a rows and columns. This tool will prove useful to create custom wallpapers from photographs, create previews of multiple images for sites like deviant art or for designers' client, create pictures for a printing service that only supports pictures of certain size and the client needs lots of smaller pictures.

---

Recursiview

Written by DonationCoder member

skwire

,

Recursiview

is a simple image viewer that will allow view a flat list of all images in a folder and subfolders.Keyboard-driven operation; Unicode-path compatible; Configurable thumbnail size.

---

MPH (Media Player Hotkeys)

Written by DonationCoder member

skwire

,

MPH (Media Player Hotkeys)

is a hotkey application designed to allow you to control various audio, video and media players from one set of global hotkeys..

---

PDFInfoGUI

Written by DonationCoder member

skwire

,

PDFInfoGUI

is a Graphical user interface front-end for pdfinfo.exe from the Xpdf package at FooLabs.. It can show a table of pdf information for a large collection of pdf files, and export to csv.

---

GotSpace?GotSpace?

, by DC member

Stoic Joker

, is a small simple portable utility that will list the available drives and the space available on them. It's actually a clone of another program SJ had been using for years which had never been updated and lacked some of the features that SJ has added to

Got Space?

---

Portable Extension Warlock

Using this tool by DonationCoder member

hamradio

, you can build a launch file to launch files of certain types in certain applications skipping the system file associations. You should be able to use this as well on portable devices as long as the computer you intend to use it on has .NET 4.0. by using the DropZone that is included.

---

Uncle Cody's Dice Game

DonationCoder members

Mouser

and

Krishnean

collaborated on this game, which is a simple Solitaire dice game based on

Martian Dice

by

Tasty Minstrel Games

. Fun!

---

PinPics

Written by DonationCoder member

NinJA999

,

PinPics

maps out geotagged photos from a folder. It's a great way to see where you've been and to bring back old memories. Try it with the pictures on your smartphone!

---

Stick A NoteStick A Note

, by DonationCoder member

anandcoral

, is an application to create focus-less notes that can be associated with application windows. The note moves with the associated window, and in saved in text format. The note auto-hides in the associated program window is hidden or inactive, and a hotkey can be used to show/hide the note.

---

Tell When DoneTell When Done

, by DonationCoder member

anandcoral

, watches a program window, which is doing some process, and tells when it has done it's processing. Effectively freeing the user to do another job in another window, without worrying about it.

---

Paste Like Text

Written by DonationCoder member

anandcoral

,

Paste Like Text

gives option to paste the text from clipboard, in different format, like Proper case, valid file name, hex color value, remove blanks etc. Also option for mimic typing, auto pasteboard and view the color, if possible.

---

Kyrathasoft Christian Prayer Minder

DC member

kyrathaba

has this to say about

Christian Prayer Minder

: This program will likely appeal to a narrower audience. As you might infer from the name of the program, the program provides informative texts on prayer-related topics, plus enables easily save/retrieve/edit/search prayer files. Searching prayer files is based on tags and/or author, or the user can search within the actual words of the prayer itself for a word or phrase. In its future incarnations, the program will have the ability to use user-configurable prompts to remind the user to pray at certain times, and/or about certain topics. Designed for use by people of faith, CPM is a tool that will continue to grow more refined and useful with each new version that becomes available. And if you love beautiful religious artwork, be sure to check out the program, which currently features a score of very attractive images, many of them created by

John R. Bell

.

---

Fentwiss

Fentwiss is a java-based, keyboard-centric calculator and converter written by DonationCoder member

timns

. The program features simple and natural syntax for fast calculation and conversion, and tries to present the results in a human-friendly way (mixed units, fractions).

---

---

After you've checked out the above entries you might want to check out these
Some of these may appeal to a narrower audience, or be a little rough around the edges.


---

---

Desktop URL EmbedDesktop URL Embed

was written by DonationCoder member

wraith808

. Active desktop was supposed to be a big feature on Windows, but it has faded into the annals of history. Or has it? It's still there, just not as prevalent. So when

wraith808

wanted to embed a webcam view in his Evil Genius desktop setup, he decided to learn about Windows Gadgets. This program allows the user to embed a URL into their desktop, and set a refresh if desired and the size of the gadget.

---

Kyrathasoft Source Code Line Counter

Are you a software developer? Do you ever find yourself estimating a project's size ("Oh, what you're wanting will probably amount to about 5,000 lines of code...") in terms of lines of source code?

Kyrathasoft Source Code Line Counter

, by DonationCoder member

kyrathaba

, makes counting lines of source code easy and fast -- within a single project, or across multiple projects. It has the option to discount blank lines and/or comments, and to count/discount IDE-created code. This donationware program supports the following programming languages' source-files: Visual Basic, C, C#, Delphi/Pascal, Bash, Java, AHK, and AutoIt.

---

Kyrathasoft Found MoneyFound Money

when DonationCoder member

kyrathaba

responded to a

coding-snack request

made by DonationCoder member

caddo

. The program allows you to keep track of money that you find -- under your car seat, in the washing machine, etc. Features record creation, saving, editing of saved records, and even searching against criteria ("show me any records in which the number of pennies is less than six", or "show me any records in which the number of one-dollar bills is exactly equal to three"). Use it for its original intended purpose, or as a digital piggy bank.

---

Kyrathasoft Hangman Game

This program was

kyrathaba

's first submission for NANY 2012, although he later added three more programs. This is a Hangman variant that presents well over nine-hundred hangman puzzles to be solved. As you continue to solve puzzles, the amount of time you have in which to solve each puzzles decreases -- to a point. You can opt to register a username on the online database in order to compete against others who are also using the program,

seeing

who can get the highest score. In the contest I ran, $30.00 of DonationCredits were distributed to monthly high-scorers. I very much enjoyed everyone's participation, and assistance in improving the game!

---

Visual PerimeterVisual Perimeter

, by DonationCoder member

hegearon

, is a very simple-to-use, barebones application whose inner width/height can be set via a "Control Panel" that drops down from the top of the mostly transparent form. Use this program to visualize a perimeter that is so many pixels in width, by so many pixels in height. A nice first effort, by new DC member hegearon!

---

Treat Yourself NicelyTreat Yourself Nicely

, by DonationCoder member

Stephen66515

, is designed to be used in conjunction with a healthy diet.

Using this software will give your computer control over when you are able to have a snack! Simply enter your name, and timer options in the settings menu and your good to go!

---

NoteMe

Using

NoteMe

, written by DonationCoder member

justice

, you can quickly send mail to yourself. NoteMe makes it possible to blog using WordPress or Posterous, to send stuff to evernote or pinboard, or label these messages (use NoteMe as a work log). Anything that can accept email can be used with NoteMe. Choose an email address from the dropdown combobox, enter a brief message, click Send. Voila! You've sent a note via email. This program can also be invoked by a script or batch file. NOTE: This program currently sends all messages through a central sever script using http protocol, and then from a gmail account, so you may not want to use it for ultra-sensitive private messages.

---

Chess PGN Processor

Written by DonationCoder member

TaoPhoenix

, is a free program for filtering and compressing the data in PGN chess game files.

---

GoogolBarGoogolBar

, by DonationCoder member

app103

, is a replacement for the Google Toolbar for Windows. It does not contain anything questionable, unethical, shady, sneaky, privacy invading, etc. Nice, clean, and simple. It is a deskbar that integrates with your taskbar to provide convenient searching of various Google services (20 in total) right from the desktop in your default browser. It will work with all major browsers and most obscure ones, too. It will work with both horizontal and vertical taskbars. It will not store a search history, not phone home, not report statistics, no automatic installation of updates without the user's knowledge or consent, no tracking of personally identifiable surfing activities, no tracking of "anonymous" statistics, no changes to your default search engine, no changes to your default "new tab" page, no changes to any web page you view, no collection and storage of personally identifiable information, no loading of dynamic content from the web, no advertising, no 3rd party bundled software, no BS. NOTE: It currently works with WinXP 32-bit ONLY, but soon a version is coming that will be Vista/Win7-compatible.

And for those that really care about privacy, there is an option to search using Scroogle.

---

Nea

Nea, by DonationCoder member

ewemoa

, starts and stops certain AHK_L scripts -- though the current intent is for FARR-focused scripts. Over the years a variety of FARR-related AHK scripts and snippets have been posted to the DC forums and this app might make it convenient to manage a collection of these.

---

PerceptualDiffPerceptualDiff

is authored by DonationCoder member

JoTo

. The program is used to batch compare two branches of image files in a human visible (perceptual - not binary) way. It permits the user to Move and Rename files depending on match results. It is a GUI front-end to the

Perceptual Diff utility

authored by Hector Yee, and has been offered back to the SourceForge project.

---

FlipsideFlipside

, created by DonationCoder member

Deozaan

, has a very simple premise. You have a single board, where you play on both sides of it simultaneously. Basically, one side tries to kill the other side. Take turns moving units and attacking each other. But wait, you say, if they are on two different sides of a plane, how do they fight each other? You notice that each side have two different looking units in the corners. They are special units. They cannot be killed, but they also cannot attack either. If they are targeted and hit, they will be pushed back a square in the opposite direction of the attack. But if they aren't combat units, what do they do? They can flip specific squares from one side to the other. The unit with a + on his helmet flips all the squares in the same row and column (orthogonally), while the unit with an X on his helmet flips all the tiles going out diagonally from his position. The special units do not change sides at all, ever, but any other unit on a flipped square is moved to the other side regardless of which side he started on, unless of course one of the special units is occupying a tile that a regular unit would flip to.

---

Reverse Dictionary (for Android devices)Reverse Dictionary (for Android devices)

, created by DonationCoder member

lotusrootstarch

, is a powerful word finder that lets you describe an idea/concept and get back a list of words and phrases related to that concept. Also functions as a thesaurus. For android devices. Ad supported.

---

Big Bang Theory Sound Quotes (for Android devices)Reverse Dictionary (for Android devices)

, created by DonationCoder member

lotusrootstarch

, presents you with the ultimate collection of sound quotes from The Big Bang Theory. For android devices. Ad supported.

---

Printer PaperSource Explorer

Written by DonationCoder member

Ath

,

Printer PaperSource Explorer

displays information about your printers Paper Trays (the source of the paper). Ever needed to setup Tray numbers in an application for a complicated, multi-tray, office printer? Then here's the way to find out the correct tray/bin numbers.

---

APK loaderAPK Loader

, by DonationCoder member

limelect

, is used to load APK files to an AVD simulator. The program makes use of Eclipse and an Android simulator.

---

Habanero Simple Software Licensing - Early Beta ReleaseHabanero Simple Software Licensing

, by DonationCoder member

josant

, is an early beta release of a new software licensing solution for developers that will be released eventually as commercial software.

---




See a list of all NANY 2012 coders (with a quick link to donate to the them at the bottom of the page) here.

Click here to discuss the NANY 2012 wrap up..

posted by

kyrathaba

(

permalink

) (

read 26 comments

)