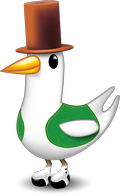 Interested in hiring us?
If you're interested in hiring us to do consulting, custom development, or customization of one of our software programs, please do not hesitate to contact us. To read more about our rates and policies, see: here.
---
The Almighty Dollar

Well, you've got me hooked now. You are a rare breed these days! Someone who operates on higher principles than the almighty $. Keep up the good work!

B.H.