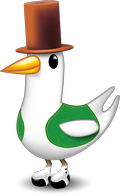 Interested in hiring us?
If you're interested in hiring us to do consulting, custom development, or customization of one of our software programs, please do not hesitate to contact us. To read more about our rates and policies, see: here.
---
May we recommend..

Jibz is one of the very earliest and dearest members of DonationCoder, and he helped hammer out the ideas behind the site.
Number of programs available: 3+
Last updated: 2015
Visit Jibz's website to browse his apps and download them here: http://www.dcmembers.com/jibsen.
Visit Jibz's section on our forum: here.