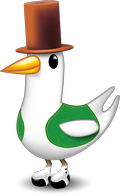 Interested in hiring us?
If you're interested in hiring us to do consulting, custom development, or customization of one of our software programs, please do not hesitate to contact us. To read more about our rates and policies, see: here.
---
Try Out 10 Free Productivity Apps at Donation Coder

Free software site Donation Coder challenged its code-savvy users in November to write small, simple programs that help users better manage their time and tasks. The results are in, they're free, and some of them look really darn useful.