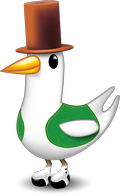 Interested in hiring us?
If you're interested in hiring us to do consulting, custom development, or customization of one of our software programs, please do not hesitate to contact us. To read more about our rates and policies, see: here.
---
May we recommend..

When I look back at the blog items I post linking to interesting developer essays and articles, many of them are originally from osnews.com. OSNews is a frequently updated blog that posts lots of small items every day. While nominally about operating systems, they really cover a much broader domain including websites and technology companies. They do an outstanding job of bringing early attention to interesting technology essays that I don't see mentioned elsewhere.
Commercial License Costs
# Seats
Cost (USD)
5-9
$5 plus $20 per seat
10-99
$125 plus $8 per seat
100-499
$525 plus $4 per seat
500-3,000
$1,525 plus $2 per seat
over 3,000
contact us
Click here to order now. Click here for our commercial site license EULA. Don't hesitate to contact us if you have any questions, find a cheaper alternative, or if you have a special circumstance -- we'll try our best to find an arrangement that works for you. *Note: A "seat" refers to a single user or computer; simply count the lesser of the two at your business.
Is your business interested in using our software?
If you'll be installing our software on more than a few computers, a commercial site license may be right for you.
Why choose DonationCoder.com for your commercial software needs?
Since our founding in 2005, our software has been installed on millions of computers around the globe. We have a large, active, and loyal base of users. What makes us so special?
The quality of our software: First and foremost, we are uncompromising in our devotion to producing the highest quality software. Don't let the fact that our software is free for personal use fool you -- we have a hard-won reputation for producing best-in-class tools.
We'll take care of you: Our strength has always been our attentiveness to user needs; should you ever have a problem deploying or using our software, a programmer who is intimately familiar with the software will be available to assist you.
We'll save you money and your employees will love us: If your employees have a question about how to use our software, there's no need for them to waste the time of your IT personnel -- just send them directly to us for support (chances are good that some of your employees are already fans of our software and members of our discussion forum).
No abandonment: As a commercial user, you can't afford for the software you depend on to be abandoned by the developer; we will support our software for as long as you continue to use it. Our software will continue to be updated to keep up with the latest operating system versions and the latest PCs -- while maintaining backwards compatibility for legacy installations.
No surprises: There are no surprises or hidden charges with our commercial licensing. Our licensing costs are a one-time fee; there are no charges for upgrades or future versions.
Hassle-free license terms: Your employees may install the software on their home or laptop or secondary computers without additional charge or hassle. Your site-wide license cost is based on the approximate number of users or computers (whichever is least expensive). If your company expands just pay the additional per-seat difference in cost.
Custom coding: We're always happy to entertain new feature requests, brainstorm ideas, or provide consultation services -- and we're always available should you want to commission us to work on larger custom projects.
Ease of deployment
Our software offers a number of features that make it easy to deploy within your company.
Well behaved installers: We use a standard installation package that supports uninstallation, silent installs, automatic license installation, etc., and is fully compliant with Microsoft Windows Operating System guidelines.
Portable deployment option: If you prefer, all of our software can be used portably without any installation, or incorporated into your own custom deployment tool.
No system modification: Our software does not modify system files or the windows registry, so there's no chance of our software causing instabilities.
No network license checks: We do not use networked/internet license checks, so there's no chance that an installation will ever stop working or complain about being unlicensed, regardless of internet connectivity or number of installations. You will never have to get permission from us to install the software on new machines.
Customizability: We can show you how to easily deploy our software with your own custom initial application options; we can customize the software to meet your needs.
Order now
Ready to order?
Click here to order online now.
Or contact us and let us know which program of ours you are interested in and approximately how many computers the software will be installed on.
We'll help you get set up and send you a formal invoice for payment due, which can be paid at your convenience by check, paypal, credit card, bank transfer, etc.
If you're interested in testing deployment company-wide before making a purchase, we can help with that too.
Are you interested in hiring us for custom software development or to customize one of our existing products for your organization?