Greetings!
We look forward to hearing from you.
Want to learn more?
---
May we recommend..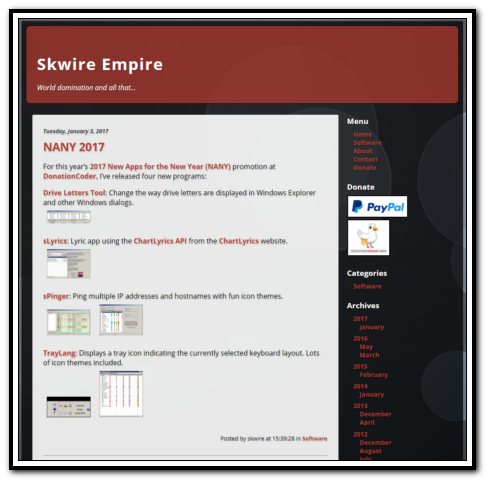 Skwire Empire is a giant collection of programs written by DC member Skwire.
You'll find everything from small utilities coded in requests to posts on the Coding Snacks section of the DonationCoder forum, to full blown applications like the awesome mp3 player, Trout.
One of the most prolific coders on the DonationCoder website, skwire never misses a NANY event, and rarely passes up the opportunity to fulfil a Coding Snack request.
We are always happy to answer questions and receive your comments and suggestions. One of the most enjoyable aspects of the website has been making friends and meeting interesting people.
Send us a comment online:
---
You can reach us by snail mail at:
Jesse Reichler (DonationCoder.com)
311 West University Avenue, #401
Champaign, IL 61820
Or via email at: [email protected]
Or through our live chat/support room: here.