1
« on: January 06, 2020, 07:11 PM »
| | |
| --- | --- |
| Original post date: | 2020-01-07 |
| Updated: | 2020-01-11 |
Basic Info
Application name:
O&O ShutUp10
Antispy/privacy tool for Windows 10.
Thumbs-Up Rating:
Support:
https://www.oo-software.com/en/shutup10
(This software has been mentioned in several past discussions on DC Forum.)
Download the software from: the support link above.

Application Version Reviewed:
ShutUp10 v1.7.1405
Test System Specs:
Have used an earlier version successfully on Win7-64 HP, but this latest version seems to be specifically oriented towards Windows 10 32-64bit
Upgrade Policy:
$FREE for Private use.
Pricing Scheme
$FREE for Private use.
1.0 Intro and Overview:
(From the support page)
O&O ShutUp10 means you have full control over which comfort functions under Windows 10 you wish to use, and you decide when the passing on of your data goes too far. Using a very simple interface, you decide how Windows 10 should respect your privacy by deciding which unwanted functions should be deactivated.

O&O ShutUp10 is entirely free and does not have to be installed – it can be simply run directly and immediately on your PC. And it will not install or download retrospectively unwanted or unnecessary software, like so many other programs do these days!

2.0 Using O&O ShutUp10:
The user is presented with a panel listing the toggles (On/Off) switches.
Select those toggles you want, per the example below.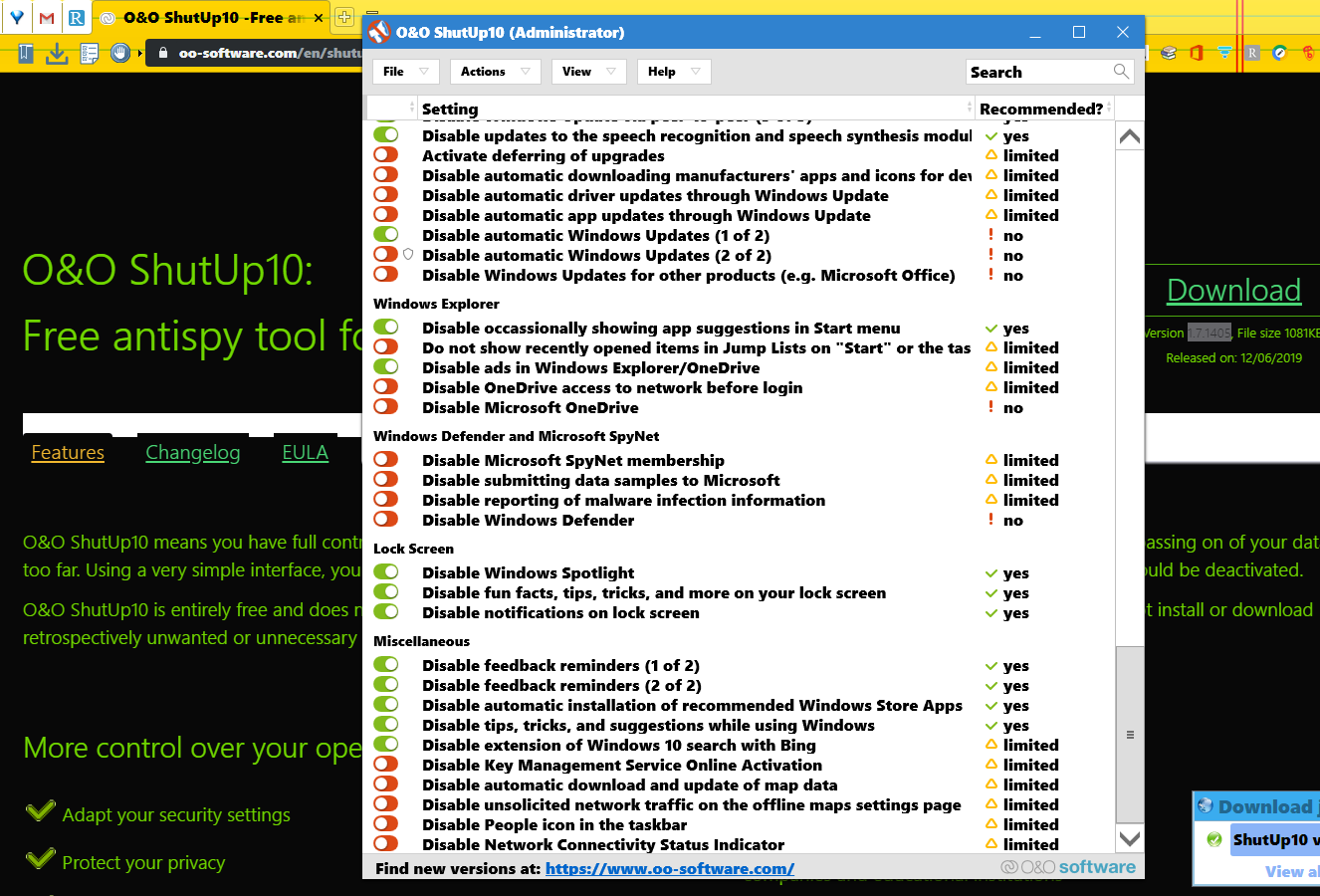 3.0 Who this software is designed for:
Home or business users wanting to manage their Windows 10 hidden/intrusive security/privacy settings.
4.0 The Good:
It's simple and effective.
It works just like it should.
Warns you about starting/enabling
Restore Point
and
Shadow Copy
functionality before making any changes.
5.0 The needs improvement section:
Nothing to report here.
6.0 Why I think you should use this product:
For home or business users wanting to better manage their Windows 10 hidden/intrusive security/privacy settings, this software could be of enormous help and provide peace-of-mind.
7.0 How it compares to similar software
Its simple approach and interface is one of the easiest to use that I have come across (so I have used it for years).
8.0 Conclusions:
Worth using in Windows 10 especially, as it addresses all the telemetry concerns.
Will need to be re-run periodically after Windows updates as they will tend to have
restored
the old default Registry settings (for the hidden/intrusive security/privacy settings ). Microsoft seems to never give up.