1
« Last post by IainB on Today at 12:42 AM »
I just today came across the website
investors.com
, where they seem to have quite a few clever and amusing cartoons about US current affairs (where "the American condition" seems to be the object of mirth) and politics (where the borax seems to get poked equally at all parties).
In current affairs:
(a) there's this one, where I
think
the elephant represents the US voting public. In the first image, he has a blue tie, in the second a red tie and also in the third - where he seems punch-drunk from all the strong but polarised (they polarised
him
) and conflicting messages. Subtle.
(b) there's this pragmatic puzzle - an externality caused by political correctness aligned with religio-political ideology - and that plainly now remains to be addressed/solved by society: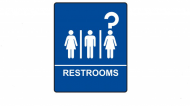 (c) there's a child explaining the real climate problem to an utterly confused scientist. Look at the amusing detail on the chalkboard, chalking up the "decline" in the scientist's thinking, echoing "the writing's on the wall". Subtle. The cartoonist doesn't seem to miss a thing in the details.
(d) then there's this "other side of the coin" one.