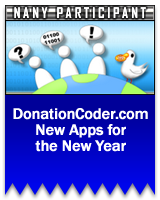 NANY 2022: ENTER NOW!
The NANY 2022 event is now closed.
If you are a coder, any new program (or addon) that you have released in the previous year, which is freeware/donationware for home users is eligible.
And if you are not a coder, you can still participate by helping coders with ideas and testing.
To join in the adventure, visit: The NANY 2022 forum section.
---
NANY contests:
---
Screenshot Captor - Attractive and Useful

Screenshot Captor

shines when it comes to processing a captured screen. MWSnap was only able to save it in various formats while Mouser's software can add elements to the screen before saving it. It is nevertheless possible to simply save it and use it that way. Users who like to add text, images or objects to screenshots on the other hand will find all the tools they need to do just that.. The screen capture software should be the right application for anyone who takes screenshots regularly. Users who process their screenshots afterwards will find all the tools they need to do just that without the need to install an image editor to do so.
DISCLAIMER: This is a program I am writing to help me learn scheme, so it is probably buggy and quite frankly it is a little below the quality that I would prefer when releasing but since it is usable and N.A.N.Y. is a better time than most to release a program...

UM is a to do list program that is used via the command line. You can either call it via um.exe <command> or just running it to enter interactive mode.

See tdl - to-do list manager (

http://www.rpcurnow.force9.co.uk/tdl/

) for the linux program that inspired this.

posted by

Daftago

(

permalink

) (

read 2 comments

)
"c_pp" is a program for applying, testing or learning C preprocessor directives. C/C++ code can be remodeled into the preprocessed form with c_pp: preprocessor directives are removed, definitions are replaced, not defined areas are removed and macros are expanded.

c_pp can be downloaded from

http://www.texttrans...mer.org/c_pp_en.html

There are some additional explanations too.




posted by

dme

(

permalink

) (

leave a comment

)