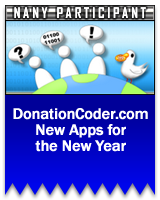 NANY 2023: ENTER NOW!
The NANY 2023 event is now closed.
If you are a coder, any new program (or addon) that you have released in the previous year, which is freeware/donationware for home users is eligible.
And if you are not a coder, you can still participate by helping coders with ideas and testing.
To join in the adventure, visit: The NANY 2023 forum section.
---
NANY contests:
---
Process Tamer - Free Up CPU Resources - Another Winner from DonationCoder

As I have said before I am a huge fan of the Donation Coder utilities and this is one that I have installed on all of the PC's/Laptops I use on a regular basis. [

Process Tamer

] is a small and efficient utility to manage the amount of CPU time being used by the programs currently running on your PC.
DISCLAIMER: This is a program I am writing to help me learn scheme, so it is probably buggy and quite frankly it is a little below the quality that I would prefer when releasing but since it is usable and N.A.N.Y. is a better time than most to release a program...

UM is a to do list program that is used via the command line. You can either call it via um.exe <command> or just running it to enter interactive mode.

See tdl - to-do list manager (

http://www.rpcurnow.force9.co.uk/tdl/

) for the linux program that inspired this.

posted by

Daftago

(

permalink

) (

read 2 comments

)
"c_pp" is a program for applying, testing or learning C preprocessor directives. C/C++ code can be remodeled into the preprocessed form with c_pp: preprocessor directives are removed, definitions are replaced, not defined areas are removed and macros are expanded.

c_pp can be downloaded from

http://www.texttrans...mer.org/c_pp_en.html

There are some additional explanations too.




posted by

dme

(

permalink

) (

leave a comment

)