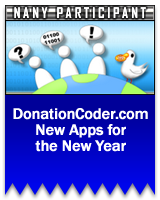 NANY 2023: ENTER NOW!
The NANY 2023 event is now closed.
If you are a coder, any new program (or addon) that you have released in the previous year, which is freeware/donationware for home users is eligible.
And if you are not a coder, you can still participate by helping coders with ideas and testing.
To join in the adventure, visit: The NANY 2023 forum section.
---
NANY contests:
---
Friend of a Friend

If you find it strange that someone with no posts yet suddenly donates, don't. I was nudged here by a friend sometime ago but have been too busy to officially sign up. I'm not sure what his handle is here, but he sings this site's praises. I will continue to do the same.

M.K.
You are viewing a specific blog item. Click here to return to the main blog page.