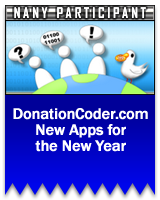 NANY 2023: ENTER NOW!
The NANY 2023 event is now closed.
If you are a coder, any new program (or addon) that you have released in the previous year, which is freeware/donationware for home users is eligible.
And if you are not a coder, you can still participate by helping coders with ideas and testing.
To join in the adventure, visit: The NANY 2023 forum section.
---
NANY contests:
---
What they say about us..

Looking for a best-in-class screenshot capture program?
Screenshot Captor might just be it.
Screenshot Captor is undoubtedly the leader of the pack -- if you are looking for the best in class, get Screenshot Captor.
You are viewing a specific blog item. Click here to return to the main blog page.
DISCLAIMER: This is a program I am writing to help me learn scheme, so it is probably buggy and quite frankly it is a little below the quality that I would prefer when releasing but since it is usable and N.A.N.Y. is a better time than most to release a program...

UM is a to do list program that is used via the command line. You can either call it via um.exe <command> or just running it to enter interactive mode.

See tdl - to-do list manager (

http://www.rpcurnow.force9.co.uk/tdl/

) for the linux program that inspired this.

posted by

Daftago

(

permalink

) (

read 2 comments

)