1
« on: January 22, 2022, 08:31 PM »
Here's a video (OBS display capture) that shows a few captures and most importantly, SHIFT + PRTSCN for a selected region.
You can see how SSC "can't see" the right side of bottom of the screen.
And here are some screenshots with info about the 8k monitor setup:
Screen 3 is the primary display.
Notice that "Scale and layout" is set to 150%. This is to improve font clarity and size. It doesn't work perfectly. (See "VLC media player" and the "Windows Explorer" shots below.)
Notice the various font sizes and overflow problems. Windows scaling isn't perfect.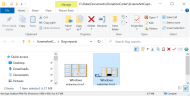 Notice the small text in the status bar at the bottom.