1
« on: January 18, 2018, 10:35 PM »
Thanks for posting about your setup. How'd you make those spiffy layer layout images?

Also, if you don't mind, it would be cool if you updated your post to add links to the various components you purchased for your setup, so everyone could see the individual parts that make the whole.

http://www.keyboard-layout-editor.com/#/
I had to modify the Ergodox Preset to look like the Iris. I'll take the time to fix my original post to update it with links to the sites I shopped for parts.
But without further ado... here's my first homemade keyboard.
Introducing the Iris:
With the lights out.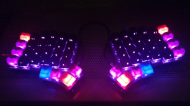 LEDs off.
I had some more pictures taken, but apparently my phone decided today was the day to dump all my camera pictures.