FAQ Sections:
Become a Supporting Member
There are many benefits to becoming a donating member, including a permanent non-expiring license key for all of our programs, early access to beta releases and new reviews, discounts on popular shareware, and much more.
Still Have Questions?
You know the drill -- the first order of business is to search our site or forum for answers to your questions.
But don't hesitate to contact us directly with questions. We don't have secretaries - you'll get a reply right away from the same people who designed the website and coded the software here. Or post your questions on our public forum for a community response.
Live Chat
If you prefer, you can join our text chat channel on irc and speak to other DC members and administrators 24 hours a day, 7 days a week.
---
May we recommend..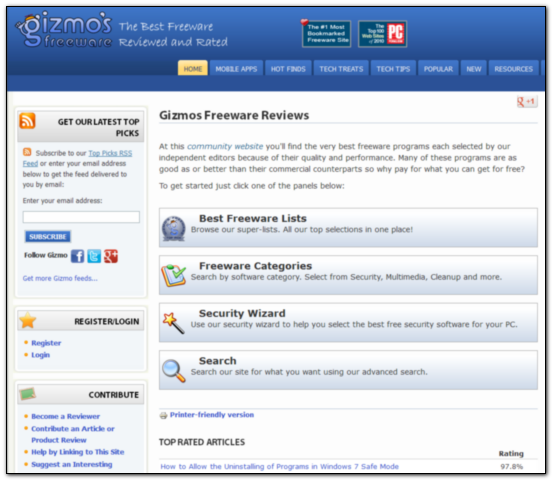 No site does as good a job of helping you choose a freeware tool for a specific task than Gizmo's Freeware (otherwise known by us old-timers as Tech Support Alert). The site is simply unrivaled in terms of recommendations for freeware, and if you ever find yourself asking what the best free windows utility is for a given task, it's *the* site to visit. In each well-organized category, top alternatives are reviewed, rated, and ranked, and then discussed by all -- and reviews are frequently revisited and updated, which is a rarity. In addition, Gizmo Richards himself has also long been a friend to freeware authors, helping to shine the light on new freeware tools, and a friend to us from the early days, helping to tell people about DonationCoder and our software -- and I am extremely honored to have had some of my tools recommended on the site. I can't think of a better site to receive the first entry in our list of our Favorite Websites.