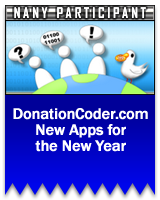 NANY 2023: ENTER NOW!
The NANY 2023 event is now closed.
If you are a coder, any new program (or addon) that you have released in the previous year, which is freeware/donationware for home users is eligible.
And if you are not a coder, you can still participate by helping coders with ideas and testing.
To join in the adventure, visit: The NANY 2023 forum section.
---
NANY contests:
---
May we recommend..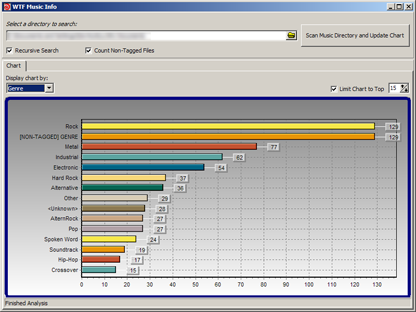 Occasionally a friend of DC without a web site will release a program and ask us to host it. We've create the Miscelaneous Member Software Archive for this purpose.
There you will find some programs by DC member seedling, including: Random MixTape Maker, which takes a large collection of your mp3 files and creates playlists with a specified target duration; WTF Music Info, which will scan your music directories and give you a nice, graphical view of your music library.
Number of programs available: 3
Last updated: 2008
Visit the miscelaneous DC member archive page to browse apps and download them here: http://www.dcmembers.com/archive.
You are viewing a specific blog item. Click here to return to the main blog page.
Description

This program was designed to aid in making word puzzles. The authour publishes a childrens' magazine, and Ballistic helps in making custom crosswords, word searches and other word games.

You can use the pre-made wordlists or even a custom wordlist, and easily filter the list to match certain criteria. It doesn't generate puzzles or games, but you can use it to find words that will fit in your puzzles. You can easily find a word that matches any pattern.

I made this program for myself and have hosted it for a few people, but it has never been officially released. This is my first public mention of the program.

Features

•Use any wordlist (simple text files)

•Comes with a collection of pre-made lists

•Find-as-you-type

•Reports the number of Matches

•Anagrams

•Permutations

•Wildcard Matching

•Typoglycemic matches

•Export Results

•Copy Results to the Clipboard

•Quick List-switching menu

•Quickly open the list in current text editor

•Full-featured GUI with lots of options

Planned Features

Update the word lists

Fix bugs

Maybe create an installer.

ScreenshotsPlease visit the documentation page for more imagesUsageInstallation

Just extract the zip file to a folder and run the exectuable.

There isn't any installer at this time.

Using the Application

A brief description of how a user will use the Application. What tips does a user need to get going?

Uninstallation

Just exit the application and delete all the files.

Tips

The searches are faster if you disable the progressbar.

But the progressbar is fun.

Known Issues

Typoglycemiacize List is really slow for long lists.

If you stop the typoglycemiacize process midterm it won't save. I can fix that.

Click here to read more, download, and discuss

posted by

BGM

(

permalink

) (

read 16 comments

)