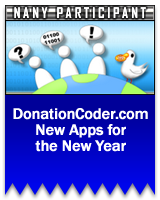 NANY 2020: ENTER NOW!
The NANY 2020 event is now closed.
If you are a coder, any new program (or addon) that you have released in the previous year, which is freeware/donationware for home users is eligible.
And if you are not a coder, you can still participate by helping coders with ideas and testing.
To join in the adventure, visit: The NANY 2020 forum section.
---
NANY contests:
---
Flipbook Printer: It doesn't get any simpler

The flipbooks can be used simply for your own enjoyment, to have fun with your kids, or maybe even a fancy party favor to pass around. Whatever the case, it doesn't get any simpler than what the free

Flipbook Printer

application offers. With a few movies from your own collection and a little computer knowledge, you are well on your way to generating your very own flipbooks.
You are viewing a specific blog item. Click here to return to the main blog page.
Point Motivator

is an application to help motivate you to do the things you want to do.

Features:

Focuses your attention on a tangible reinforcement "score" that provides immediate feedback about your actions.
Provides an intuitive visual display of your progress over time to provide positive reinforcement.
Lets you configure tasks and their associated value, and share these configurations with others.
Lets you set up rewards you can "purchase" with your earned points, to provide additional motivation.




This is actually a fairly substantial program that i've been wanting to write for quite some time. It's designed so that people can share their xml item definition files easily so i hope we will see people creating sets of activities and rewards for specific purposes (dieting, exercise, schoolwork, phd studies, etc).

posted by

mouser

(

permalink

) (

read 1 comment

)