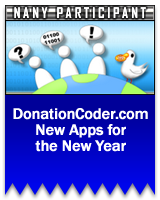 NANY 2022: ENTER NOW!
The NANY 2022 event is now closed.
If you are a coder, any new program (or addon) that you have released in the previous year, which is freeware/donationware for home users is eligible.
And if you are not a coder, you can still participate by helping coders with ideas and testing.
To join in the adventure, visit: The NANY 2022 forum section.
---
NANY contests:
---
Still dreaming of your own personal robot?

Still dreaming of your own personal robot? Technology isn't there yet, but you can have a personal computer robot to save you time and serve your whims. Another benefit of

FARR

-- one that makes it different from SlickRun and other favorites--is that it comes from a developer at donationcoder.com, an active site for software developers. The forums there are lively, but not too busy to keep up with. Browse through the Farr Add-ons forum to unearth old standby plug-ins and discover new ones just as they post.
You are viewing a specific blog item. Click here to return to the main blog page.
FScript is a FARR plugin SDK that allows you to write plugins for FARR in javascript.

In addition, I made a Del.icio.usplugin for demonstration that let's you search your Del.icio.us posts.

FScript is a Javascript SDK for FARR
Del.icio.us plugin allow you to explore your del.icio.us bookmark from FARR




A lot of people are going to be happy to be able to search their del.icio.us items from FARR, but the truly remarkable thing about this entry is that it includes a complete SDK for people who want to create FARR plugins using ->Javascript<-. That is just insanely cool, i didn't even know that could be done.

FARR (Find and Run Robot) v2 download for those who don't have it already: here.

posted by

ecaradec

(

permalink

) (

read 3 comments

)