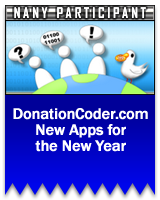 NANY 2022: ENTER NOW!
The NANY 2022 event is now closed.
If you are a coder, any new program (or addon) that you have released in the previous year, which is freeware/donationware for home users is eligible.
And if you are not a coder, you can still participate by helping coders with ideas and testing.
To join in the adventure, visit: The NANY 2022 forum section.
---
NANY contests:
---
Find and Run Robot is ideal

If you're a Firefox fan, you must love the way of searching for text in this fastest browser: just type some characters, then Firefox highlights the words which include the characters you've just typed. If you want to launch an application the same way by tying some characters of that application's name, Find and Run Robot is ideal for you.
You are viewing a specific blog item. Click here to return to the main blog page.
AccuTicket is a free ticketing application for concerts and/or events. The interface is easy to use, enabling quick creation and validation of tickets. Tickets can either be invalidated or deleted, once entered. If a ticket is invalidated, it will be marked as invalid, and that it has already been validated. If it is deleted, it can not be recovered for future use.

This program will be updated to include interface changes, updates, and the ability to sell tickets, as in a point of sale system.

posted by

dhuser

(

permalink

) (

read 4 comments

)