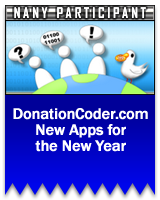 NANY 2020: ENTER NOW!
The NANY 2020 event is now closed.
If you are a coder, any new program (or addon) that you have released in the previous year, which is freeware/donationware for home users is eligible.
And if you are not a coder, you can still participate by helping coders with ideas and testing.
To join in the adventure, visit: The NANY 2020 forum section.
---
NANY contests:
---
Of Course

Hello, I sure am interested in your programs. I am a Disabled vet on a very fixed income. I hope you understand. I would like to get a membership if that is possible? [we give full memberships to anyone who can't afford to donate]

R.S.
Mars Project Stage 1 - v1.0.61230.15 - December 30th 2006

First public release
Basic chat server for the Ares Galaxy P2P chat network

What is Mars Project

Mars Project is a long term project, to be a replacement for the Ares Galaxy P2P network focusing on chat instead of file sharing.

It is being developed in multiple stages, so far only a few stages have been planned out.

Each stage will be fully usable.

Stage 1

Stage 1 is an Ares Galaxy compatible chat server, it works with the Ares Galaxy official client.

Stage 2

Stage 2 is separated into 2 sub stages. Stage 2a will be a custom Mars Server which will

NOT

be compatible with the official

Ares Galaxy client, but instead will use it's own client. Stage 2b will be the custom client which will be compatible with the official

Ares Galaxy server, and also be a client for Stage 2a.

Plans on the stages for the file sharing part of Mars Project hasn't been made yet.

posted by

hollowlife1987

(

permalink

) (

leave a comment

)
WHAT IT DOES:
This program allows an administrator to navigate and search Active Directory, to retrieve only the objects that are of interest. The search refers to should be returned in a query, not what should be query should be looking for, ie this is not like a search in Windows Explorer, that will search folders and subfolders for matching results. (However, this may become part of the feature set in a later release).

Yes, there are other tools out there like this, but the reason I did this particular program is because it is something I needed to learn as part of a larger project. This is also, my first ever C# .NET application - which began as a proof-of-concept program about 3 months ago, approximately 1 month after taking up C#. Previous coding experience was limited to Borland Delphi (7 to 2006), so this is a big change for me!

Having become very excited by the challenges that real object oriented programming presents, I am now studying to become a Microsoft Certified Solutions Developer!!



posted by

Poolee

(

permalink

) (

leave a comment

)
Fixed Run Dialog - v0.97ß - December 15, 2006Program Description:

Fixed Run Dialog is a minimal enhancement to your Windows desktop. It will add a 'command box' that can be always on top or not. It acts just like the Run Dialog, which you would get by clicking 'Start > Run...'. Fixed Run Dialog can handle all commands that you normally enter in the Windows Run Dialog, plus more! You can define custom commands for your frequently used applications, documents, folders or websites. You can set the Fixed Run Dialog command box to be transparent (customizable level of transparency) to make it less obtrusive. The command box is quickly accessed by pressing a (customizable) global hotkey like CTRL+SHIFT+R or WIN+A for example. This application is aimed at people like me who don't like to use their mouse so much. The application is fully customizable to suit your personal needs.

Features:

Accepts all Windows commands
Accepts locations of folders to open them in Windows Explorer
Accepts website URLs to open with your default web browser
Accepts documents and launches the default application to open them
You can create new custom commands with a dialog or from the command box directly
Keeps track of your history of used commands
The command box can be dragged anywhere you like
The label under the command box can be hidden or the text customized
You can set the font, foreground- and background colors
You can resize the command box quickly by pressing CTRL + LEFT/RIGHT arrow keys
A readme.rtf and readme.txt file is included explaining all of the features in details

posted by

Ruffnekk

(

permalink

) (

read 12 comments

)
Ever made a mess of a file by saving something you were not meant to, and not being able to undo the disaster you created.

I have, lots of times. so i went in search on google for a simple 'incremental revision save' of files. To my dissapointment, most systems just seemed to complex for what I needed. I don't work in a team, or have the desire to setup up a client/server. Booking In and Out is not required. and I don't always have access to the internet.

I just wanted something really, really simple. To work as a standalone, small, single user. Did I mention Simple, like 123 simple.

It can do two things that will monitor a file for changes.

-Create a new file in the same folder as 'Backup Revision Folder.exe'

-Create a link from the tray menu, (the link is actually stored in the same directory as 'Backup Revision Folder.exe')

Features

What File Revision Folder does when executed and running

* It will monitor all the files in the folder it resides inside, and upon saving a file
* Prompt the user with a interface to enter a breif description.
* Save a copy of the changed file to the folder MyDocuments/Backup Revision Folder/example/example 2007_01_01 09_30.???
* Append to a historylog file, the users popup interface, saved in MyDocuments/Backup Revision Folder/example/example_HistoryLog.txt
* And most importantly, it is simple. Simple enough for kids and grandparents to use. ABC simple.

You can now continue to work on your original master file, knowing that there is a version saved to a backup folder.

You can run

Backup Revision Folder.exe

straight from a Thumb drive folder,

which means it will save a version of the changed file to the current machines mydocuments folder. (or configured location)

posted by

brett

(

permalink

) (

read 20 comments

)
Description
The program is a substitute for Windows clock in notification area (tray). Needs a bit training to use, though.
The colours are adjustable. Looks good also on XP view, and in Win9X. The time can be displayed in hint of TPClock.

(The thing between Thunderbird and ZoneAlarm, of course. Now the seconds are displayed on top so it's 17:21:54)

posted by

TPReal

(

permalink

) (

read 12 comments

)
WHAT IT DOES:

Each button either starts the download for a free security application or else it takes them to a site to get the app.

The last button takes them to a page with explanations and other security information.

First release
Based on a friend's website
When I send people with questions to his site, they are too lazy to read it
Hoping a GUI will get a better response
Since it is basic security information, people silly enough to run JRE are a good target audience
ALL suggestions are welcome! I'd really like to replace ZoneAlarm with a free firewall that isn't evil so I am hoping for suggestions on that
I'm still researching how to add the icon to the jar

posted by

dementedmuppet

(

permalink

) (

read 16 comments

)