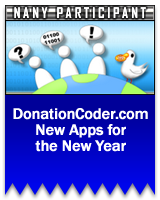 NANY 2020: ENTER NOW!
The NANY 2020 event is now closed.
If you are a coder, any new program (or addon) that you have released in the previous year, which is freeware/donationware for home users is eligible.
And if you are not a coder, you can still participate by helping coders with ideas and testing.
To join in the adventure, visit: The NANY 2020 forum section.
---
NANY contests:
---
I am using screenshot captor more or less every day and it is the best tool I ever worked with.

Bernhard G.
This program acts as a secure digital rolodex, storing the following information for individuals or businesses: name, phone number(s), email address(es), picture, miscellaneous notes, and more. Passwording a particular contact is optional. All contacts are stored in a proprietary format and, if passworded, are only accessible once the password is supplied. Supports emailing any contact for which an email addy has been provided.





posted by

kyrathaba

(

permalink

) (

read 9 comments

)
Open source for Windows/Mac/*nix/etc. Comes with precompiled Windows binary.

WHAT IS PHORP?
Phone Home Robot Pro (phorp) is an open source program that runs on your pc or laptop, and periodically "phones home" to a server somewhere to check if it has been stolen, and gets instructions on what to do if it has been.

There are a lot of services you can buy that perform similarly to phorp, in that they connect regularly to a central server so that you can hopefully track them down when they are stolen. In general, phorp is different from these services in that it attempts to be extremely lightweight and minimalistic, and in that there is no single service you need to subscribe to. Instead, you can use your own web servers or ftp accounts as the home page for the program to phone home to and for you to leave instructions for.

NOTE: This is an advanced tool for advanced users; it requires some reading and work to set up.

posted by

mouser

(

permalink

) (

read 9 comments

)
This is a subliminal messaging application. It displays an image and/or text on the screen at user specified intervals. It's pretty simple and self-explanatory.

posted by

daedalian thoughts

(

permalink

) (

read 10 comments

)
WHAT IT DOES:

Whats Its Color is a fun little online application for getting the primary and complementary dominant colors of an image, how many visually unique colors are in an image, and the top ten visually unique colors in an image. Why is this useful? Well, if you were creating a website around an image or using an image as the primary inspiration for any type is design it can be very helpful to know what its primary dominant color is or what are the unique colors that people can see when viewing the image. The final results will display your image on a background that is best suited for that image. This application is just fun to play around with.

KEY POINTS:

Images are resized for display purposes only. The original image file, and all its color information, is used in the processing
Font colors used in the results page are adjusted based on the colors that are in the display
Full support for JPG, GIF and PNG
Option for discarding the background from being used in calculations. This lets you process an image on a solid color background without the colored background affecting calculations
Information on the amount of visually unique colors are displayed. This includes the top ten
Additional color information is gathered but currently not displayed. Open for suggestion on what else to display

posted by

Veign

(

permalink

) (

read 31 comments

)
Final submission version for Accessibility Games Contest, One-Click Game: Core gameplay, levels, menu, high score list.

WHAT IT DOES:

A one-click version of Asteroids, placing you in command of a nuclear-armed, nuclear-propelled spacecraft!

Press the spacebar to fire a bomb; release the spacebar to detonate the bomb. The distance between the bomb and your ship determines the amount of thrust the bomb provides to the ship. The distance from the bomb to the asteroids determines the damage done to the asteroids.

Remember: We guarantee that each of our spacecraft contains at least 1.3 megatons of Nuclear Fun - or we'll return every Zongfrib you paid!

posted by

tinjaw

(

permalink

) (

read 7 comments

)