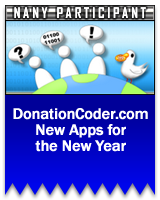 NANY 2022: ENTER NOW!
The NANY 2022 event is now closed.
If you are a coder, any new program (or addon) that you have released in the previous year, which is freeware/donationware for home users is eligible.
And if you are not a coder, you can still participate by helping coders with ideas and testing.
To join in the adventure, visit: The NANY 2022 forum section.
---
NANY contests:
---
I found DonationCoder while looking for a good tool or utility to take screenshots for me and make it easy.

I read through the site and it mentioned that members of non-profits and such are able to request a permanent free key. Since I had published a novel that I give away for free, I decided to apply. They got back to me quickly and offered me a lifetime free key! He is very generous and supports others who also donate to charities, give to non-profits and the public, and serve the community...and the tools offered can be quite handy. I am very glad I found DonationCoder and I tell everyone I know about it if they are looking for good utilities or software!

Will
You are viewing a specific blog item. Click here to return to the main blog page.
It's a simple virtual desktop manager. Almost as simple as it gets!

It is limited to 4 virtual desktops: 3 "normal" virtual desktops and one (named as 0) where all the windows appear.

It is mostly hotkey based, although it has a minimalist gui too.

The hotkeys are defined as follows:

windows + 0: show desktop 0

windows + 1 / 2 / 3: show corresponding desktop

windows + left / right: show next desktop

windows + shift + 1 / 2 / 3: add window to that desktop

windows + c: show the "changer", which allows you to change desktops using only the mouse.

Now... Why did i make it? 2 reasons:

low memory usage (about 3mb)
It's a script!

This program being a script means i (and anyone else) can change it to suit my own needs! Of course, source code in AHK is in the zip package. I only ask for recognition if you decide to change it and distribute it.

posted by

jgpaiva

(

permalink

) (

read 7 comments

)