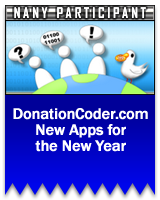 NANY 2022: ENTER NOW!
The NANY 2022 event is now closed.
If you are a coder, any new program (or addon) that you have released in the previous year, which is freeware/donationware for home users is eligible.
And if you are not a coder, you can still participate by helping coders with ideas and testing.
To join in the adventure, visit: The NANY 2022 forum section.
---
NANY contests:
---
gHacks on DonationCoder.com

The Donation Coder website and community is special... because it is taking an approach that most other sites on the Internet does not take. Instead of relying on online advertisement to fund their projects they rely on donations from their community. Those donations are put into good use to pay for the server costs, websites and also some of the regular goodies that they throw at their users and members.

There are quite a few reasons why I like the Donation Coder. They do produce some fantastic programs that I use on a daily basis. But the software is only one aspect of the website. If you ever participated in their forum you might have realized how helpful they are. Just post an idea about a new software program and watch what happens. It is not seldom that you get a working piece of code after a few hours that does exactly what you wanted.

I personally have not donated before (shame on me) and I figured that I should do so before even starting this article. I suggest you do the same if you like Donation Coder software and have a few bucks to spare. It's money well spend. Rock on!
You are viewing a specific blog item. Click here to return to the main blog page.
A "Tic-Tac-Toe" game variant for two players with an audiophile twist. Download MusToe, unpack it, start it without any installation, select your MP3-Collection folder, find a buddy as an opponent, turn on your speakers and let's go.

A detailed manual with the rules is included in the program.


posted by

JoTo

(

permalink

) (

read 5 comments

)