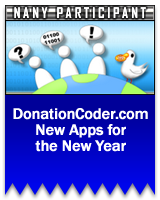 NANY 2022: ENTER NOW!
The NANY 2022 event is now closed.
If you are a coder, any new program (or addon) that you have released in the previous year, which is freeware/donationware for home users is eligible.
And if you are not a coder, you can still participate by helping coders with ideas and testing.
To join in the adventure, visit: The NANY 2022 forum section.
---
NANY contests:
---
Process Tamer Opinions on SnapFiles

Bit of a fraggle having to renew freeware license every six months (or make a financial donation) but well worth the effort.. The configuration menu / interface may prove a bit daunting to anyone not computer literate but the program chugs along quite happily in its 'as supplied' mode - so no real worries there. Do I like it? Yes, very much and have no hesitation in highly recommending it... Well I must admit I was sceptically about this one. Heh! it works like a charm... Wow. This is a nice little utility. It works as advertised. Very, very handy; this is what freeware is all about. In addition it is very stable. One of the problems with freeware is that they can be unstable and rough around the edges--this program is neither... This is just the little program I have been searching for. It does exactly what it was developed to do.. A must have for anyone who wants to speed up their system at crucial times.
You are viewing a specific blog item. Click here to return to the main blog page.
A mood based timer.

WHAT IT DOES:
Helps fight depression by giving you reasons to smile.
The more depressed you are, the more frequently you are given 'smiles'.

posted by

app103

(

permalink

) (

read 9 comments

)