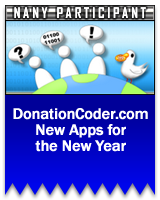 NANY 2022: ENTER NOW!
The NANY 2022 event is now closed.
If you are a coder, any new program (or addon) that you have released in the previous year, which is freeware/donationware for home users is eligible.
And if you are not a coder, you can still participate by helping coders with ideas and testing.
To join in the adventure, visit: The NANY 2022 forum section.
---
NANY contests:
---
The Almighty Dollar

Well, you've got me hooked now. You are a rare breed these days! Someone who operates on higher principles than the almighty $. Keep up the good work!

B.H.
You are viewing a specific blog item. Click here to return to the main blog page.
---

UPDATE:

All N.A.N.Y. programs (over 20 of them!) are now online as of January 1st, 2007 !

Discuss the programs on our forum:

Here

.

Read about the project on:

ShellCity.net

.

Read about the project on:

CybernetNews.com

.

Read about the project on:

ghacks.net

.

---

Here was my challenge to DC members with coding skills: "Join me in pledging to release a new program/utility/game on JANUARY 1st, 2007 to celebrate the new year! We will give out fun prizes (custom dc mugs celebrating the event or something like that), for all coders who live up to their pledges."

If you see a NANY program you like, send a few donation credits to the author!

(click gold coin next to their name)

Read more about the NANY challenge..

posted by

mouser

(

permalink

) (

read 3 comments

)