1
« on: July 29, 2011, 09:08 PM »
Hi there,
You can also try our new tool
InternetOff
. It allows you to quickly turn off\on your internet connection from the system tray. Fully freeware. But in beta state and 32 bit version only. Feel free to
send us
any comments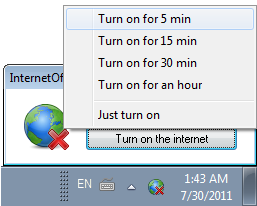 Actually it was made for own needs - as a small productivity helper, but it seems it's exactly what TC asked so I posted here.
Igor Tkachenko,
Crystal Rich Ltd CEO,
http://crystalrich.com/