1
« on: November 11, 2018, 05:19 AM »
Application Name
StringSimilarity
Version
1.3.0.0
Short Description
Compare 2 strings/texts giving a distance/proximity score using several algorithms
Supported OSes
Windows 7 or newer (.NET 4.5 or newer required)
Web Page
StringSimilarity page
Download Location
StringSimilarity page
System Requirements

Windows 7/8/10
.NET 4.5 or newer

Version History

2018-11-24 1.3.0.0: Added Load from (txt) file feature.
2018-11-11 1.2.0.0: NANY Release. Show all algorithm results in a grid
2018-10-26 1.1.0.0: (not released) Added extra algorithms, restore screen size/position and settings.
2018-10-24 1.0.0.0: Initial release

Author
Link to Ath's Profile page
Description
As a response to a
request by HelmutWe
I searched and found an algorithm that seemed to match the request, and folded that into a C#/WinForms application.
After adding a few similar but different algorithms, also found on the internet, and re-shaping the UI a bit to handle larger texts and a results grid, the current incarnation is now available.
Used algorithms and sources:
Features
Compare 2 strings/texts and calculate their similarity.
Planned Features
Allow to select 2 files and determine their similarity
Requested features
Make available as separate dll for use from other tools (undecided yet)
Screenshots
Initial screen:
Comparing Similarity and Simelarity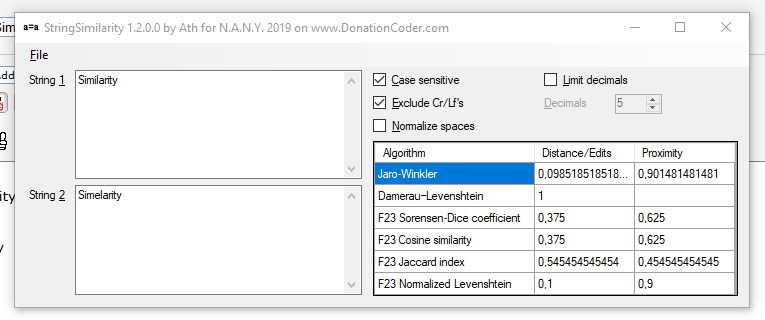 Usage
Installation
- Unzip the file to it's own directory
- Run the exe
(A settings.xml file will be created when closing the application)
Using the Application
- Enter some texts to compare
- Select desired options
- Results are updated immediately when both strings are non-empty
- Results can be sorted by clicking a column title
Uninstallation
- Close the application
- Remove all files
Known Issues
To be reported by users, none so far...