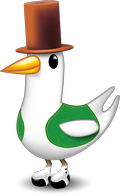 Why Donate?
There are many benefits to becoming a donating member, including a permanent non-expiring license key for all of our programs, early access to beta releases and new reviews, discounts on popular shareware, and much more.
Donate now using PayPal and you'll receive your lifetime member activation code and non-expiring program license instantly via email.
Commercial Users
Click here to learn more about our Commercial/Site Licensing
Commitment To Integrity
None of our software contains toolbars, spyware, adware, or bundled software of any kind. We will refund any donation at any time with no questions asked. All donations are processed securely by trusted financial services; we do not receive your credit card or personal information when you donate, and we will not share your email address with anyone. For more information please read our Privacy Policy.
Tax-deductible?
DonationCoder.com is not a registered non-profit organization, so donations are not tax deductible.
Want to learn more?
---
Process Tamer: My New Favorite App

The third item I'd like to mention is my new favorite app. I'm sure just about every computer user who uses Windows has, at least once, had an application freak out and chew up all your cpu cycles leaving you with the most sluggish machine you've ever seen. Enter

Process Tamer.

This little app will save you countless hours of frustration and dollars spent on getting rid of that windows inspired headache. Its a very small (140k) app that sits in the system tray and monitors processes and how much of the cpu they are using. When a process rises above a certain level (that you set), that process is automatically lowered in priority. It doesn't kill the process entirely. So if it is a legitimate, normally functioning process, it will continue to operate. But if it is being a bad seed, having its priority lowered will allow the normal execution of other apps and allow your computer to function normally. I can't begin to tell you how much time and frustration this saves me. The very same day I found and installed this on one of my computers, I had a process go ballistic on another computer. I meant to install Process Tamer first change I got on my second computer, but being my procrastinatory self put it off. After fixing that rogue process I installed Process Tamer and have never had a problem since!

W.H.