Download the Plugin SDK - supports C++, Delphi, Javascript, Python, C# and other .net
---
May we recommend..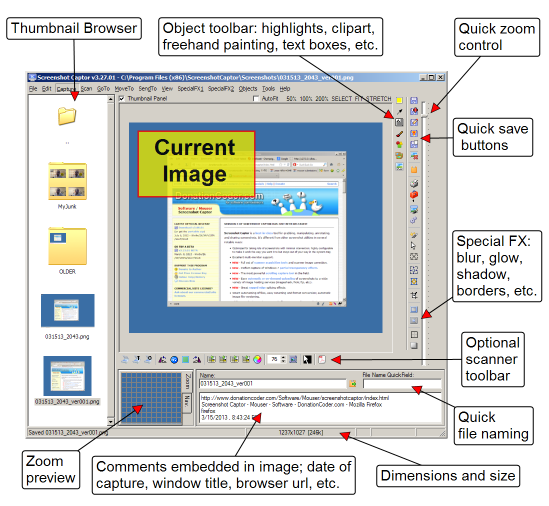 Screenshot Captor is our most well-known tool. A best-in-class tool for grabbing, manipulating, annotating, and sharing screenshots. It's different from other screenshot utilities in several notable ways...
Addons for the Find and Run Robot Program
This page collects addons for the Find and Run Robot program that have been posted on our forum over the years. Click a link to go to the forum thread discussing the addon and download.
This is a plugin for my

Find and Run Robot

program.

Download from:

https://www.donation...rProcs/FarrProcs.zip

This plugin is triggered by default with: fprocs

It shows a list of running processes -- with top-level windows (like you see with alt+tab) at the top of the list.

Filter the list and hit enter or select any item to switch to that active window.

Or right-click for more options including the option to terminate the process.

See advanced options for the plugin to tell fprocs to always switch to an application if it is already running, no matter how it is launched.




posted by

mouser

(

permalink

) (

read 12 comments

)
I use Opera as my main browser, but I also need Firefox and Chrome. They all have their strong and week points.

I make, for example, a Google search using "g query" syntax.

Here comes my question: how can I make my web search in the current opened browser and not in the default one?

And if I have all 3 (or only 2) browsers opened, could I specify a preferred order of them?

Maybe this could be doable already, but I have no idea how.

It is annoying to work in Firefox and hitting "g whatever" makes me wait until Opera launches etc...

Thanks!

Note: the answer was offered by

lanux128

in the form of Farr_Browser_Launcher

version 1

and

version 2

.




posted by

joby_toss

(

permalink

) (

read 37 comments

)
I've finally gotten around to writing a FARR plugin that can read fortune and quotes files (same formats and configuration used in my

Popup Wisdom

program), and search them for keywords.

The main point of this plugin is to let you search many thousands of quotes to find ones that mention certain words, so you can past them in emails or whatever.

You could also use it with your own custom text files (one item per line).

I've finally gotten around to writing a FARR plugin that can read fortune and quotes files (same formats and configuration used in my

Popup Wisdom

program), and search them for keywords.

The main point of this plugin is to let you search many thousands of quotes to find ones that mention certain words, so you can past them in emails or whatever.

You could also use it with your own custom text files (one item per line).

Download:

https://www.donation...quotes/PopQuotes.zip




posted by

mouser

(

permalink

) (

read 10 comments

)