HOME USERS:
HELP AND ASSISTANCE:
---
May we recommend..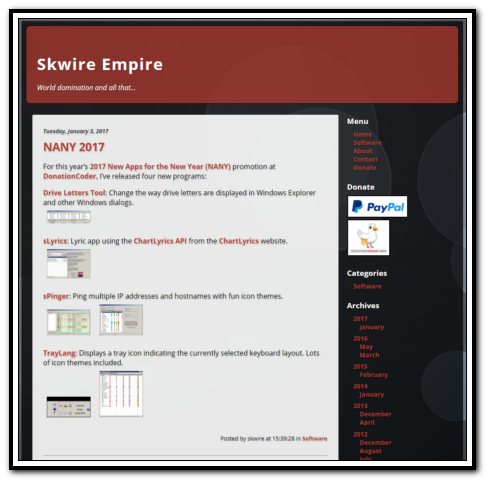 Skwire Empire is a giant collection of programs written by DC member Skwire.
You'll find everything from small utilities coded in requests to posts on the Coding Snacks section of the DonationCoder forum, to full blown applications like the awesome mp3 player, Trout.
One of the most prolific coders on the DonationCoder website, skwire never misses a NANY event, and rarely passes up the opportunity to fulfil a Coding Snack request.
Dr.Windows is a harmless joke/prank/trick program that will periodically display funny joke error messages to unsuspecting users.
Use it to play jokes on your family members - just don't be too cruel, or they'll come blaming us when they figure it out.
Comes with over 50 fun dialogs, but the main fun is making your own!
By default when loaded, Dr.Windows appears to be a program that is protecting the computer against something (we have no idea what). The "Protection Enabled" checkbox doesn't actually do anything. As an effort to not be too evil, we do let victims exit the program from the tray if they are smart enough to realize that the cause the messages is the program.
Every once and a while the 'victim' will see a random fake error dialog (see screenshots).
Holding the CONTROL key down while right clicking on the system tray icon opens up the secret options.