HOME USERS:
HELP AND ASSISTANCE:
---
May we recommend..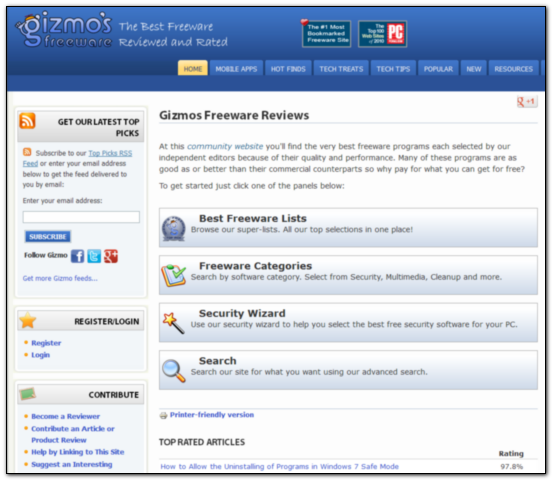 No site does as good a job of helping you choose a freeware tool for a specific task than Gizmo's Freeware (otherwise known by us old-timers as Tech Support Alert). The site is simply unrivaled in terms of recommendations for freeware, and if you ever find yourself asking what the best free windows utility is for a given task, it's *the* site to visit. In each well-organized category, top alternatives are reviewed, rated, and ranked, and then discussed by all -- and reviews are frequently revisited and updated, which is a rarity. In addition, Gizmo Richards himself has also long been a friend to freeware authors, helping to shine the light on new freeware tools, and a friend to us from the early days, helping to tell people about DonationCoder and our software -- and I am extremely honored to have had some of my tools recommended on the site. I can't think of a better site to receive the first entry in our list of our Favorite Websites.
Dr.Windows is a harmless joke/prank/trick program that will periodically display funny joke error messages to unsuspecting users.
Use it to play jokes on your family members - just don't be too cruel, or they'll come blaming us when they figure it out.
Comes with over 50 fun dialogs, but the main fun is making your own!
By default when loaded, Dr.Windows appears to be a program that is protecting the computer against something (we have no idea what). The "Protection Enabled" checkbox doesn't actually do anything. As an effort to not be too evil, we do let victims exit the program from the tray if they are smart enough to realize that the cause the messages is the program.
Every once and a while the 'victim' will see a random fake error dialog (see screenshots).
Holding the CONTROL key down while right clicking on the system tray icon opens up the secret options.