1
« on: January 13, 2009, 10:11 AM »
Google have just released a new launcher-type app (currently Mac only) called Quick Search Box (QSB):
http://code.google.com/p/qsb-mac/
What is interesting is that the lead developer is Nicholas Jitkoff (aka Alcor), who was the creator of the legendary Quicksilver (QS). Just as with Quicksilver, it uses a simple launcher interface, but allows powerful
object—verb—modifier
to be used; you take something, do something more to it with additional input.
It has a nice data sources plugin system, pulling in address book items, music items, allows access to your google docs, calender and mail accounts (not fully functional yet), and is fully open source.
One very cool thing, it can search
within
pages for more content. Notice in the screenshot above I have wikipedia searching for robot. In the list, QSB has already done the search and given me the wikipedia pages that contain robot. I can select one page and then search just that page for another word (drreams, screenshot below), getting the contextual part of the page in QSB's interface without ever visiting a webpage!!!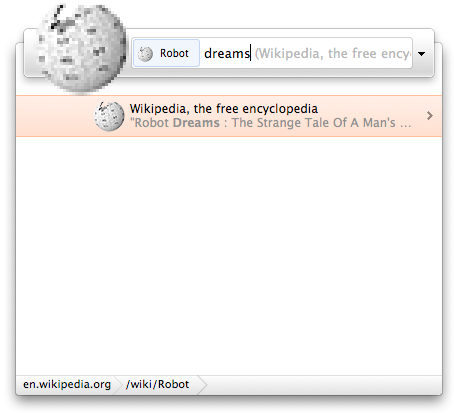 Can hook into spotlight. Not as visually beautiful or elegant as QS, nor can it manage triggers (
noun-verb-modifier
blocks bound to keystrokes), no general plugins.
It certainly is no replacement for Quicksilver for power users, but it is a very nice basic launcher nevertheless.