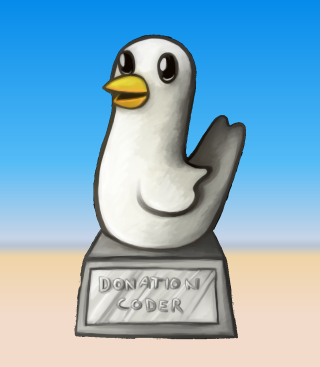 ---
May we recommend..

It's safe to say that mysterious and reclusive DC member Skrommel single-handedly built the Coding Snacks section of the DonationCoder forum, where people request small custom applications. Coding in the Autohotkey scripting language, Skrommel is also one of the fastest coders we've seen -- when he is on the prowl it's not uncommon for him to finish coding a request before most of us have had time to even read it. He also typically shares his source code along with the compiled utility, which makes it possible for others to extend and customize his tools.
Number of programs available: 80+
Last updated: 2017
Visit skrommel's page to browse his apps and download them here: http://www.dcmembers.com/skrommel.
Visit skrommel's section on our forum: here.
THE 2006 DONATIONCODER.COM C++ BUILDER DONATIONWARE PROGRAMMING CONTEST RESULTS
About C++ Builder
We are huge fans of Borland's C++ Builder here at DonationCoder.com. It's used in many of our more elaborate windows programs, and it's one of the most powerful tools for C++ programmers that want to do rapid development of rich Windows GUI applications.
About Judging The Results
There were many excellent submissions to the contest, and choosing winners was difficult and several of the decisions could honestly have gone either way. Judging was based on a number of criteria including completeness, documentation, polish, the existence of alternative free tools, the possibilities of improvement, the estimated difficulty of implementation, the usefulness/fun of the entry, and more. We categorized entries as described on our contest rules page, in order to ensure some diversity, but also awarded prizes to individual coders based on multiple entries.
Download and Try For Yourself!
One of the main points of this contest was to encourage the development of donationware software. On behalf of the authors we invite you to download and use these programs. If you find them useful, will you please consider making a donation to the authors to support their continued development?
You are viewing a specific blog item. Click here to return to the main blog page.
Complete Soduku Game with Editor and Solver.

Download:

here

.




This is a really fantastic entry, complete, polished, documented, and fun to play. Helps you solve and manage soduku games as well.

posted by

gillz67

(

permalink

) (

read 4 comments

)