HOME USERS:
HELP AND ASSISTANCE:
---
May we recommend..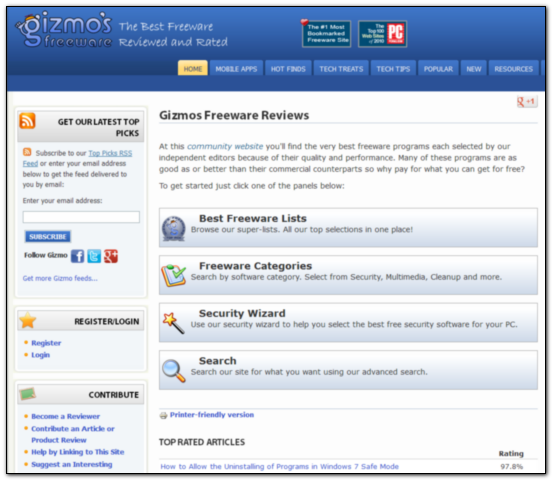 No site does as good a job of helping you choose a freeware tool for a specific task than Gizmo's Freeware (otherwise known by us old-timers as Tech Support Alert). The site is simply unrivaled in terms of recommendations for freeware, and if you ever find yourself asking what the best free windows utility is for a given task, it's *the* site to visit. In each well-organized category, top alternatives are reviewed, rated, and ranked, and then discussed by all -- and reviews are frequently revisited and updated, which is a rarity. In addition, Gizmo Richards himself has also long been a friend to freeware authors, helping to shine the light on new freeware tools, and a friend to us from the early days, helping to tell people about DonationCoder and our software -- and I am extremely honored to have had some of my tools recommended on the site. I can't think of a better site to receive the first entry in our list of our Favorite Websites.
Progress Bars of Life lets you create a set of custom progress bars that will graphically show the progress towards different events in your life.
You can create as many progress bars as you like, and display them in various ways -- for example, docked to the edge of a screen and always visible, or invisible and shown on command.
Create progress bars that show things like how close you are to the weekend, to your birthday, to your graduation, to your due date, until your death, till the end of the current hour, etc.
Version 2 introduces many small features, but one major feature -- an alert system that features something called a "Zeno Alert". A Zeno Alert configured for an event will pop up reminders at recursive half way point leading up to the event. So an event 10 days away will show an alert at 5 days, 2.5 days, 1.25 days, 12 hours, 6 hours, 3 hours, etc. Useful when you need to be aware/reminded of upcoming events.