HOME USERS:
HELP AND ASSISTANCE:
---
May we recommend..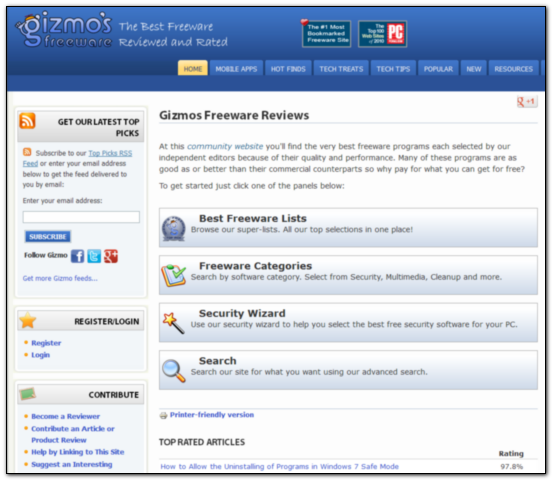 No site does as good a job of helping you choose a freeware tool for a specific task than Gizmo's Freeware (otherwise known by us old-timers as Tech Support Alert). The site is simply unrivaled in terms of recommendations for freeware, and if you ever find yourself asking what the best free windows utility is for a given task, it's *the* site to visit. In each well-organized category, top alternatives are reviewed, rated, and ranked, and then discussed by all -- and reviews are frequently revisited and updated, which is a rarity. In addition, Gizmo Richards himself has also long been a friend to freeware authors, helping to shine the light on new freeware tools, and a friend to us from the early days, helping to tell people about DonationCoder and our software -- and I am extremely honored to have had some of my tools recommended on the site. I can't think of a better site to receive the first entry in our list of our Favorite Websites.
DesktopCoral is an unusual program designed to "reserve" some portion of your desktop which is shielded from maximized applications..
Essentially, it acts like an invisible resizeable docking bar, which can be docked to any side of your desktop. This invisible dock acts as a barrier to maximized applications and essentially shields this area of your desktop from other applications.
Within this shielded area you might put certain application windows that you want to be always visible, or you might put one of the many desktop tools like a calendar or system information component.
Why would you need a tool like DesktopCoral?
DesktopCoral was requested by someone who uses the Samurize desktop system information utility. This fun utility and others like it draw text and graphics on top of your desktop. But when working with other programs, this information can be covered by these other windows. DesktopCoral solves this problem by reserving an area of your desktop where normal programs will not be expanded into.