IMPORTANT: This is a legacy page. It has been preserved on our website for historical reasons, even though it may contain old or outdated information and links.
---
May we recommend..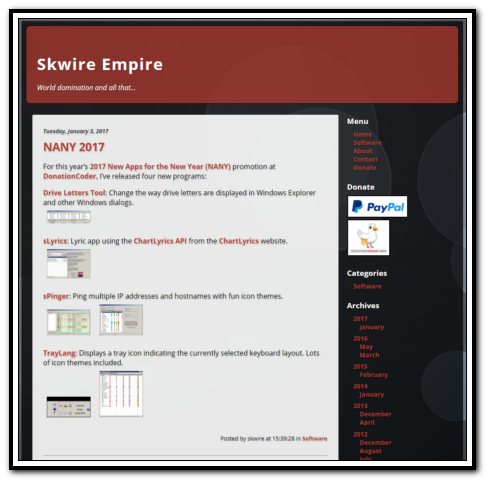 Skwire Empire is a giant collection of programs written by DC member Skwire.
You'll find everything from small utilities coded in requests to posts on the Coding Snacks section of the DonationCoder forum, to full blown applications like the awesome mp3 player, Trout.
One of the most prolific coders on the DonationCoder website, skwire never misses a NANY event, and rarely passes up the opportunity to fulfil a Coding Snack request.
The Tree Form Machine Online (tfdocs.com) was a website where people can create and share interactive forms -- forms that can be used by others to assemble detailed output documents with just a few clicks of the mouse.
It was based on a similar desktop application of mine called The Form Letter Machine.
The tfdocs.com website has since been taken offline and retired due to there not being enough interest in the project.