HOME USERS:
HELP AND ASSISTANCE:
---
May we recommend..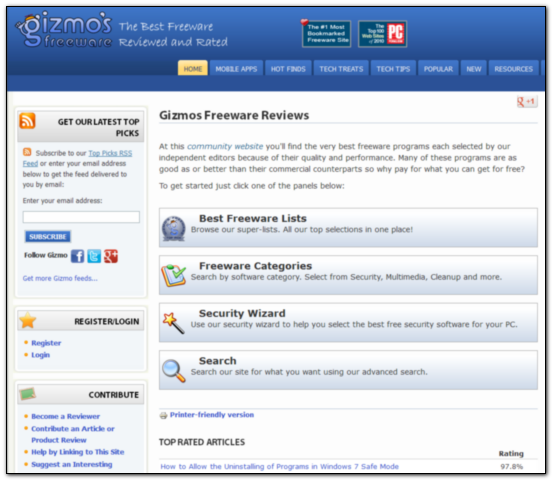 No site does as good a job of helping you choose a freeware tool for a specific task than Gizmo's Freeware (otherwise known by us old-timers as Tech Support Alert). The site is simply unrivaled in terms of recommendations for freeware, and if you ever find yourself asking what the best free windows utility is for a given task, it's *the* site to visit. In each well-organized category, top alternatives are reviewed, rated, and ranked, and then discussed by all -- and reviews are frequently revisited and updated, which is a rarity. In addition, Gizmo Richards himself has also long been a friend to freeware authors, helping to shine the light on new freeware tools, and a friend to us from the early days, helping to tell people about DonationCoder and our software -- and I am extremely honored to have had some of my tools recommended on the site. I can't think of a better site to receive the first entry in our list of our Favorite Websites.
The Form Letter Machine is a program that will help you to write letters and emails by mixing and matching from pre-written paragraphs.
It's useful for people who regularly need to send out emails which include different components in different circumstances. For example if you field technical support requests, or if you need to reply to various inquiries, etc.
It enables you to assemble text from multiple paragraphs, each one customized for a specific type of inquiry or response. You can build your own configurations using checkboxes and radioboxes and nested groups, and then easily write new letters or respond to inquiries by checking off the components you want to include. A real-time preview allows you to view the message as it is composed. The program also supports user defined variables, which allows you to quickly personalize the template with a name or other data that is specific to the task. The text is then copied to the clipboard and can be used in your e-mail program or word processor.