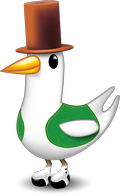 MEMBER STATUS
You are not signed into our forum, so your member status cannot be determined. Please sign in or register an account at the DonationCoder.com forum to be recognized.
Why Donate?
There are many benefits to becoming a donating member, including a permanent non-expiring license key for all of our programs, early access to beta releases and new reviews, discounts on popular shareware, and much more.
Donate now using PayPal and you'll receive your lifetime member activation code and non-expiring program license instantly via email.
Commitment To Integrity
None of our software contains toolbars, spyware, adware, or bundled software of any kind. We will refund any donation at any time with no questions asked. All donations are processed securely by trusted financial services; we do not receive your credit card or personal information when you donate, and we will not share your email address with anyone. For more information please read our Privacy Policy.
---
Working some of their programmers to the bone

Donation Coder is working some of their programmers to the bone lately with all of the apps that are being developed! Just a month ago they

released a dozen or so free programs

, and this time around

there are 16 new ones

. Here are a few of them that really peaked my interest.
Generate a free temporary License Key
This page allows non-donors to instantly generate free temporary License Keys for our software.
If you have donated or purchased a License Key, please return to the main License Key page to retrieve your permanent Key.
Your License Key:
*r1;Tny6Ry0JluUOEcSeTo167cIyoxG7aZtb625IdXIbklu+SQGeFBhA+5D OOzZ1+KZftyTAs0makF9dqTdowiTYNNfLH00cGzsY+974pr88kLldKN9wDc8 iF48l+sCmqMlh9bhnfYxn1mJfo1fTXMbPSXtDDkfkJz5ximDLDg94Ea4=;U5 VWfccveB4=;hN4raD1RbKM8PJmipgD5t17/n9NSd1E4EhO578tWhuEuaPX7v gR+GVRI5wu4X2MECatp7cTUeIP674N5GpQ0Vmdw1dqP4IgTeg9grOySWJiMt BGz9KKEqcKV+W91Npwf2WddqHzxvm7W1vqO88XF+ZDhg2Z9HEreS04DaOhZP IcqYk7bEurkOktZgcvudQS1/JqPnqBDu9q5LSYV1ay+MeZZ8fjM357esNcV7 Bu2JmD2AWkptubboXPd8deJWJXq7ssUni9ogi/8Oyh/nIgu7OQuMoLgZwxQh y4kJFesW3wydoxwL0uq/aAcZb+f6AMqIXMvwXubDE+FJMLDvztMFeCqSFKk7 v2zZRedDUkfxNEnKwy4Mc7XdQqfFajestIhJEQzWi736al/Zm+ZUjET/69bh o6WtGnqvPLgr9J84nmtUpFbcDmhRKPUP25yObXiODEgz3XMuxuAad/iCI51z kRMfUNlGRd4jmzUsXYIuyHi9pM7jDnqWA==
The license key above is made out to:
License name: Anonymous user
License email: n/a
License type: Temporary 60 day License
Note: Expires on Sunday November 26, 2023

Instructions for using your license key:
Select the entire multi-line key above beginning with the *r1, and hit Ctrl+C to copy it to the clipboard.
Install and run the program of ours that you want to activate, go to its Help menu and choose "About", then pres the button to enter your License Key.
Use Ctrl+V to paste your license key into the dialog.
For more detailed instructions and a video demonstration see this page.
If you'd like to have the license key made out to a different name/company/email, don't hesitate to contact us.