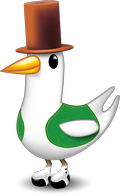 MEMBER STATUS
You are not signed into our forum, so your member status cannot be determined. Please sign in or register an account at the DonationCoder.com forum to be recognized.
Why Donate?
There are many benefits to becoming a donating member, including a permanent non-expiring license key for all of our programs, early access to beta releases and new reviews, discounts on popular shareware, and much more.
Donate now using PayPal and you'll receive your lifetime member activation code and non-expiring program license instantly via email.
Commitment To Integrity
None of our software contains toolbars, spyware, adware, or bundled software of any kind. We will refund any donation at any time with no questions asked. All donations are processed securely by trusted financial services; we do not receive your credit card or personal information when you donate, and we will not share your email address with anyone. For more information please read our Privacy Policy.
---
May we recommend..

It's safe to say that mysterious and reclusive DC member Skrommel single-handedly built the Coding Snacks section of the DonationCoder forum, where people request small custom applications. Coding in the Autohotkey scripting language, Skrommel is also one of the fastest coders we've seen -- when he is on the prowl it's not uncommon for him to finish coding a request before most of us have had time to even read it. He also typically shares his source code along with the compiled utility, which makes it possible for others to extend and customize his tools.
Number of programs available: 80+
Last updated: 2017
Visit skrommel's page to browse his apps and download them here: http://www.dcmembers.com/skrommel.
Visit skrommel's section on our forum: here.
Generate a free temporary License Key
This page allows non-donors to instantly generate free temporary License Keys for our software.
If you have donated or purchased a License Key, please return to the main License Key page to retrieve your permanent Key.
Your License Key:
*r1;sP/PdmDcqTwvKV80oK9g6WVWV6PIZoQjIweHcy396a79xoH/mxUa5CE r4d7+yKYWQ5GP1BUDZ8i0s2ChGGoSCvjCEIIY3qAOIcMyYk9CPnV43MfGNDu JoUUs0eE4Zd48C1SzCls/r7mOBCfAl71+biYBVoKtdYJrEJoMrZem5L8=;nu kB6gccCSM=;kUaOQpW7qbeK+PnKIZHPvRe5E3freeNFJbJ6uhJv2xBrAoooW HzkVZWqrFESaPLFlRn4IPd1JWpNG/CmhS2AOIFJYBTNFfD9G8MDgnlchtzDD OBieQdq/iew6f0y0NpwCZf0/S6ThOjKLvb8wfS+Q+xUYtjNhiqkiw/+gKTrJ VLq5SFJG7fHmvamW5FvLmk0owZ86ur/43/pSWxFg+3nd9N8ry52dbBk6spvT CUyC9tH2BWLfXr49nIbqgWcetVUQgOyPrMe7kcoLYtLCqKqX95tnCmuuyvKS CEaQ1pcbCyU62uSGCf6XvjvtxjWpnEWCl46pJF/qO2mOzeLjNjplBQLqc1Wi yvm7zksW3X9vpWn4+sEyeo+He8/hqM0QAwocJPE2uIU01jkKg2MFlql6orq9 F7Ut6qouG5bf336vDsUFFNVaXS+CiWuj0hFR1mpQgjXPkDIrYC4VAANoHWDy wEV76ZUx0WXV7Hgd2kP6MtktJZiWojKug==
The license key above is made out to:
License name: Anonymous user
License email: n/a
License type: Temporary 60 day License
Note: Expires on Tuesday October 13, 2020

Instructions for using your license key:
Select the entire multi-line key above beginning with the *r1, and hit Ctrl+C to copy it to the clipboard.
Install and run the program of ours that you want to activate, go to its Help menu and choose "About", then pres the button to enter your License Key.
Use Ctrl+V to paste your license key into the dialog.
For more detailed instructions and a video demonstration see this page.
If you'd like to have the license key made out to a different name/company/email, don't hesitate to contact us.