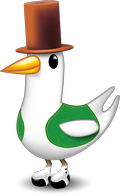 MEMBER STATUS
You are not signed into our forum, so your member status cannot be determined. Please sign in or register an account at the DonationCoder.com forum to be recognized.
Why Donate?
There are many benefits to becoming a donating member, including a permanent non-expiring license key for all of our programs, early access to beta releases and new reviews, discounts on popular shareware, and much more.
Donate now using PayPal and you'll receive your lifetime member activation code and non-expiring program license instantly via email.
Commitment To Integrity
None of our software contains toolbars, spyware, adware, or bundled software of any kind. We will refund any donation at any time with no questions asked. All donations are processed securely by trusted financial services; we do not receive your credit card or personal information when you donate, and we will not share your email address with anyone. For more information please read our Privacy Policy.
---
Making Life Easier for Mac Users

I heard about you when trying to find a free screen shot capture utility [

Screenshot Captor

]. I write user guides as a small part of my job, and I love that I could get such a useful program for the PC (my mac has one inbuilt hehe). Looking through your catalogue since donating, there seem to be a few others that might be very useful to take the edge off having to use a PC all day. So my paltry donation (I'm a underpaid trainee) probably wont cover the use I get from your site.

J.N.
Generate a free temporary License Key
This page allows non-donors to instantly generate free temporary License Keys for our software.
If you have donated or purchased a License Key, please return to the main License Key page to retrieve your permanent Key.
Your License Key:
*r1;MxM1NngXov6yoPbJWHc0SnrL+K4r5p0GDx+3+pPMxuvIqHn8KQy6A8t kxyIPRqMS3ScRPODLhIL4/M49sX1/B7fp3h8stXTayjCOIudlio9btHMw/af GRPsuvu8xkcTQncdXULHebf/mw2CATS7RXenrTSEpATV/f+3UGBGg4+E=;sz MVdAnnFKw=;RD6NdY3/5SlgiiHMEsMD6lH59YUL2NJa0tWFQOsUEw55EC7FL liKjY7M6b08uXRUDAZCOS2wogCDBjhywCXrJEGOGW3UTxzA4DfCKx18wSWPq JMPPeRTBv4WzA67tWnlvYfy+1vnLx9lZ5uAZ7JYx+N7Coh8PzzgUc684X6yA UeAhc47wKyLfkVaaluqkbALM2mRJ/oEILn4K6xmeQ5lzJC7aYdfp1TV247Pl CyjQQaUITufn7NXmp0QAEhAHKOV1u7bnpXgyMJz+wNww1TOJJn+wLOTo4C7t ZeljNUyEoH+OKh59BcmloiFue93bcrAfPYyY9Irqt2O4YXGMkDZBoD7e/yYy LZ4zQDuzwBAO/CC2bM+iTtUdbPdX+zJ6OfB5Qy6D5fce3PXR1UFF1RWkBO6P FVX76so2AQUw2sdfaYPGdGqo5SO7sPjyIt/djjCM4D+KtPsJI0g//sXdpX1L NzRbdkJRV+PTSM8Z1SP+76oe9DKuApE1Q==
The license key above is made out to:
License name: Anonymous user
License email: n/a
License type: Temporary 60 day License
Note: Expires on Friday March 19, 2021

Instructions for using your license key:
Select the entire multi-line key above beginning with the *r1, and hit Ctrl+C to copy it to the clipboard.
Install and run the program of ours that you want to activate, go to its Help menu and choose "About", then pres the button to enter your License Key.
Use Ctrl+V to paste your license key into the dialog.
For more detailed instructions and a video demonstration see this page.
If you'd like to have the license key made out to a different name/company/email, don't hesitate to contact us.