1
« on: April 09, 2021, 05:33 PM »
Drop Launcher v0.1.0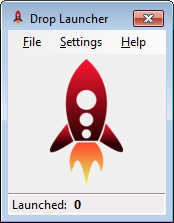 Drop Zone link extractor and launcher.
Receives drag & drop links and modifies them by regular expressions. Resulting link launches on its own tab/window.
Download & full info
:
https://www.dcmember...rop-launcher-v0-1-0/
v0.1.0 notes:
Processes dropped links from Google Chrome, Firefox and likely more browsers (feel free to try!).
Edits both link & launch regular expressions.
Always on top.
Remembers location on screen.
Plain text format on SettingsData for easy human reading/modification.
Day #99, Week #14 @ April 09, 2021
Enjoy!
Vic