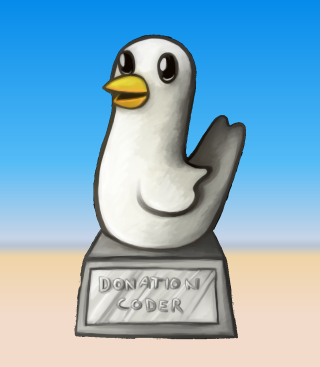 Please note: We are in the process of a major updating of the content on DonationCoder.com as of January 2018, and this page will be updated soon.
Our Favorite Websites
This page lists some of our long-time favorite websites -- sites we couldn't live without and sites that have been true friends to DonationCoder.com.
Have a Suggestion?
If you have a suggestion for a site that you think we should add to this list, let us know.
Editorial Integrity
DonationCoder does not accept paid promotions. We have a strict policy of not accepting gifts of any kind in exchange for placing content in our blogs or newsletters, or on our forum. The content and recommendations you see on our site reflect our genuine personal interests and nothing more.
---
Making Life Easier for Mac Users

I heard about you when trying to find a free screen shot capture utility [

Screenshot Captor

]. I write user guides as a small part of my job, and I love that I could get such a useful program for the PC (my mac has one inbuilt hehe). Looking through your catalogue since donating, there seem to be a few others that might be very useful to take the edge off having to use a PC all day. So my paltry donation (I'm a underpaid trainee) probably wont cover the use I get from your site.

J.N.
Our Favorite Websites
This page collects short descriptions of some of our favorite websites. It's our way of saying thanks to the sites we have come to love.
This page has not been updated for awhile but will be getting some new content soon! Please check out the rest of our fantastic website which is far more updated than this page!
You are viewing a specific blog item. Click here to return to the main blog page.
gHacks

is one of a handful of wonderful websites that has always been friendly to, and supportive of, independent software authors.

The site has been mentioned hundreds of times on our forum, and they've featured many of the software utilities made by the members here.

Truly one of our favorite sites for discovering software.

Visit Site:

http://www.ghacks.net/

---

To see other posts on the DonationCoder forum that mention the gHacks website, click:

here

.




posted by

mouser

(

permalink

) (

read 18 comments

)