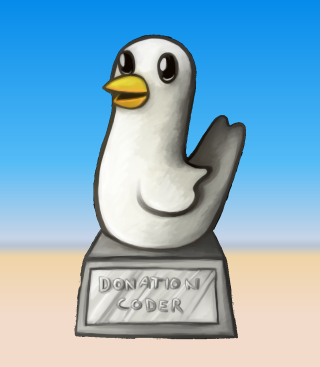 ---
Toddler Trap: I don't have to worry anymore

My nephew is sometimes coming over and I would accept any bet that he is heading straight towards the computer pressing buttons and moving the mouse around. This can cause some irritation and probably damage and I finally found a way to stop him. This is actually helpful in numerous ways, have you ever tried watching a movie with a kid on the computer? Then I discovered

Toddler Trap

by Skrommel a member of Donation Coder.. So, whenever he comes the first thing I do is start up Toddler Trap and let him have his fun. I don't have to worry anymore and he is happy.
The 2007 Getting Organized Experiment (GOE) Freeware Programming Challenge
This page lists the freeware programs created during our 2007 Getting Organized Experiment Programming Challenge. The programs are inspired by our Getting Organized Experiment series where we explore systems and tools for becoming more organized and maximizing our productivity. Coders are instructed simply to creae a small free utility that, loosely defined, relates in some way to heling people work more efficiently.
You are viewing a specific blog item. Click here to return to the main blog page.
I've seen other apps that do some of the same things, but have some limitations that I think I have addressed. It mainly adds some functionality to the windows common file dialog, like favorites, history, and custom file filters. I found other solutions didn't get the file filtering quite right so I wrote my own.. Small app, coded in C++, portable, so it runs on a usb thumb drive.. Comments and suggestions welcomed

http://dreamcycle.net/cfdbutton/

posted by

ChalkTrauma

(

permalink

) (

read 26 comments

)