HOME USERS:
HELP AND ASSISTANCE:
---
May we recommend..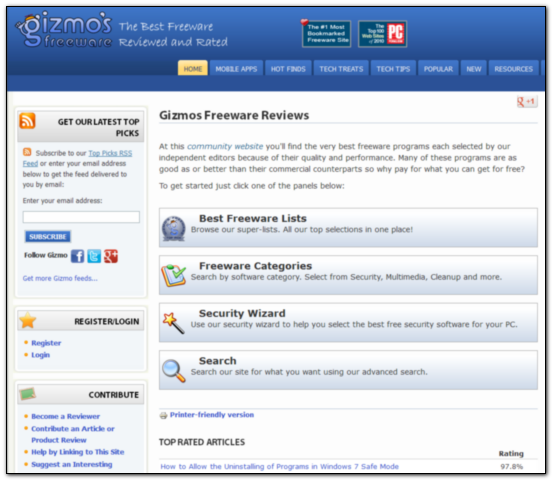 No site does as good a job of helping you choose a freeware tool for a specific task than Gizmo's Freeware (otherwise known by us old-timers as Tech Support Alert). The site is simply unrivaled in terms of recommendations for freeware, and if you ever find yourself asking what the best free windows utility is for a given task, it's *the* site to visit. In each well-organized category, top alternatives are reviewed, rated, and ranked, and then discussed by all -- and reviews are frequently revisited and updated, which is a rarity. In addition, Gizmo Richards himself has also long been a friend to freeware authors, helping to shine the light on new freeware tools, and a friend to us from the early days, helping to tell people about DonationCoder and our software -- and I am extremely honored to have had some of my tools recommended on the site. I can't think of a better site to receive the first entry in our list of our Favorite Websites.
LaunchBar Commander is what is commonly referred to as an "Application Launcher"; it is typically docked to the side of your screen and lets you configure buttons and menus which will launch your favorites programs.
LaunchBar Commander has a slightly different focus than some other launch bar tools:
It's designed for power users who value efficiency over eye candy - although you can choose some nice appearance skins for the program, if you are looking for a super fancy animated mac-style dock with dancing icons, LaunchBar Commander is not the tool for you (but see the help file for links to other freeware/shareware alternatives you might like).
It's designed to store docking bar configurations in self-contained files - so you can back them up easily, move them to other computers, switch between configurations, etc.
It emphasizes the use of highly configurable Menus rather than just buttons - you can build hierarchical menus of any depth and varying types.
It has a very powerful tree configuration tool which supports copy and paste, drag and drop, easy temporary disabling, multiple configuration files, etc.
Multiple dock support - a single instance of the program can support multiple docks and tray menus.
Robust support for virtual file menus - configure menu items to give you access into specific folders, with many options.
Drag and drop runtime support - drop files onto buttons to open them with the specific program, or add them to the launch bar.
Smart tree building - extracts icons and descriptions from files and pictures.
Advanced button and menu types - including switchable Tool Buttons, Batch Buttons, Virtual Links, and more coming soon.
Smart icon retrieval - use application icons, standalone .ico files, or even .bmp files.
Special menu building blocks for Start Menu, MyDocuments, etc. More coming soon (control panel, printers).
Works great on removable usb flash type drives - will auto adjust to changing drive letters and requires no installation
Optional use of skins to get the perfect look to match your background wallpaper.
Easily toggle launchbars to tray mode so you can use them as tray menus when you don't want them taking up space on your desktop.