HOME USERS:
HELP AND ASSISTANCE:
IF YOU LIKE THIS TOOL, SEE:
---
May we recommend..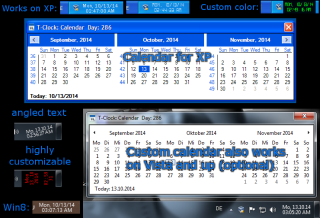 TClock is an open source replacement for the windows system tray clock.
Development and maintenance of TClock has been continued by a series of coders on the DonationCoder forum.
Easy Screencast Recorder is a program to easily record short videos of your desktop, that you can share with others.
It can be run portably, and can record audio and video using any installed codecs (including webm). Easily record entire screen, multimon workspace, or specific region.
Integrates automatically into the Screenshot Captor screenshot taking tool. Easy to record many screencast videos with minimal intervention.