HOME USERS:
HELP AND ASSISTANCE:
---
May we recommend..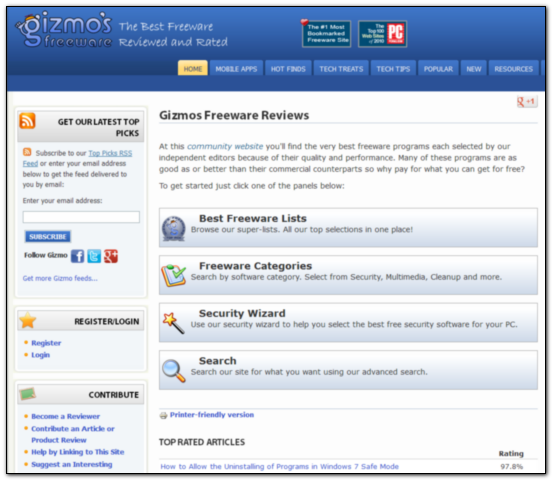 No site does as good a job of helping you choose a freeware tool for a specific task than Gizmo's Freeware (otherwise known by us old-timers as Tech Support Alert). The site is simply unrivaled in terms of recommendations for freeware, and if you ever find yourself asking what the best free windows utility is for a given task, it's *the* site to visit. In each well-organized category, top alternatives are reviewed, rated, and ranked, and then discussed by all -- and reviews are frequently revisited and updated, which is a rarity. In addition, Gizmo Richards himself has also long been a friend to freeware authors, helping to shine the light on new freeware tools, and a friend to us from the early days, helping to tell people about DonationCoder and our software -- and I am extremely honored to have had some of my tools recommended on the site. I can't think of a better site to receive the first entry in our list of our Favorite Websites.
Roku Radio Snooper is a program that helps Roku owners locate the urls of internet audio radio streams, and use them with their Roku Soundbridge devices.
Many links to audio streams that you come across on the web are hidden behind javascript or activex scripts. Because of this, it is sometimes very difficult to figure out the actual urls that correspond to the streams being played.
Roku Radio Snooper provides easy solution to finding the URLs for all streams by watching network traffic and identifying potential urls, then testing these streams for Roku compatibility, and letting you set good ones as presets on your Roku.
Features:
Automatically detects all connected Roku Devices.
New super-simple, no-configuration operation - just start it and surf.
Quick buttons to play a URL, save it as a preset, or test its compatibility.
Automatic background testing of stream compatibility with your Roku device.