---
May we recommend..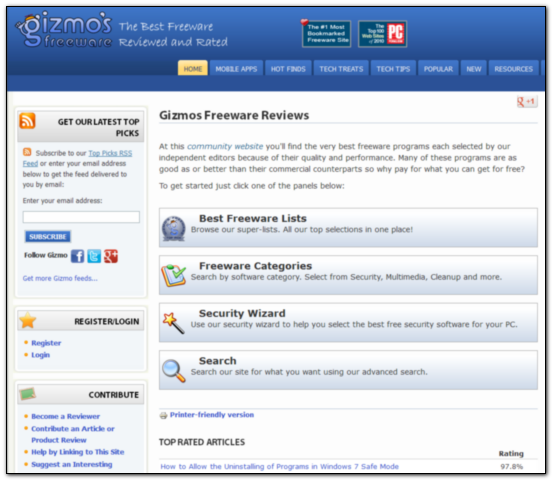 No site does as good a job of helping you choose a freeware tool for a specific task than Gizmo's Freeware (otherwise known by us old-timers as Tech Support Alert). The site is simply unrivaled in terms of recommendations for freeware, and if you ever find yourself asking what the best free windows utility is for a given task, it's *the* site to visit. In each well-organized category, top alternatives are reviewed, rated, and ranked, and then discussed by all -- and reviews are frequently revisited and updated, which is a rarity. In addition, Gizmo Richards himself has also long been a friend to freeware authors, helping to shine the light on new freeware tools, and a friend to us from the early days, helping to tell people about DonationCoder and our software -- and I am extremely honored to have had some of my tools recommended on the site. I can't think of a better site to receive the first entry in our list of our Favorite Websites.
Feast Day / Fast Day is a minimalist Android dieting application. It is well suited as an aid to scheduling "cheat days" for low-carb and similar diets. It should run nicely on any screen size.
The 3 Modes
At any given time, the program will be in one of 3 modes: Normal, Feast, or Fast.
Normal Mode: You will spend most of your time in Normal mode, where you must stick to whatever diet you are currently on (low-carb, etc.). You can configure how long Normal mode lasts, but a typical duration would be 5 days. After this duration, the program remains in Normal mode, but a button becomes available that will let you trigger Feast mode.
Feast Mode: Feast mode will only last a short period of time (configurable, but typically something like 24 hours), during which you are allowed to eat as much as you want of whatever you want. After this duration, the program automatically switches into Fast mode, where you are not allowed to eat anything.
Fast Mode: Fast mode lasts only a short period of time (configurable, but typically something like 24 hours), during which you may consume only water or similar liquids. After this duration, the program automatically switches back into Normal mode, where the cycle continues. Note that you could set this to 0 to bypass the use of Fast mode entirely and only cycle between Normal and Feast modes.
The philosophy of the program is based on the following concepts: The simpler and clearer the rules for eating, the easier it is to stick to your diet; Brief periods of eating whatever you want can be a reasonable way to indulge and stick to your diet at other times, and keep your body from hoarding calories; Fasting (especially after feasting) is a good way to reset your system and keep you from increased cravings.
Scoring Points: To help motivate you, the program tracks your "score" over time, which is calculated as follows: For every minute you delay triggering Feast mode (after your mandatory time in Normal mode), you will receive 1 point.
Is This Healthy? I haven't the slightest idea. Lawyers would probably suggest we stick all sorts of warnings here for liability reasons. I'm not a nutritionist and this app should be used in conjunction with your common sense. If it doesn't help you, stop using it.
Features:
Completely free of ads, purchases, bundled software, etc. It collects no personal or anonymous information and sends no information to our servers. It does what it says it does and nothing more (the file and network permissions required are only for import/export/sync functions).
---