1
« on: October 09, 2010, 03:23 AM »
Hi there,
I have a problem with 7-zip program on my personal computer, that runs Windows 7 Professional 64-bit.
If I try to create a new zip file or to extract from a zip file by using the context menu (anywhere on the computer), I get the following error: "The requested operation requires elevation. C:\Program Files\7-Zip\7zG.exe"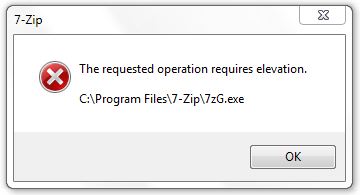 I tried both beta and regular version, and the same problem occurs. I have the same program installed at work, on Windows 7 Enterprise 64 bit, and and the same operations work without a problem.
I noticed that if I kill the Windows Explorer process and then I start it again, the operations work.
Do you have any ideas as to why this is happening?
Thanks,
bgd77