1
« on: December 04, 2014, 10:14 AM »
Hello2all!
I would like to introduce you my new liteware utility TaskLayout which should help many people in their every-day work
The point is: user choose a set of different opened windows(shell windows, applications) and assign a hotkey to this layout. That's all!
Now he can revert the changes on desktop(actually, restore saved layout over the others) in a single click or hotkey and get these windows back to their original positions.
By the way, it does not matter if these windows were already closed or moved or redirected. TaskLayout will start required apps and open shell windows to restore them as it should be.
Of course, there can be problems with restoring of windows which appeared as a result of user action inside applications, but today TaskLayout does not handle these cases
I have nothing more to say, you'd better to try it yourself
Here are some screenshots:
Main menu
Layout editor
Settings, tab 1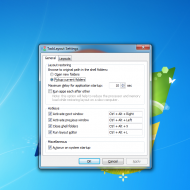 Settings, tab 2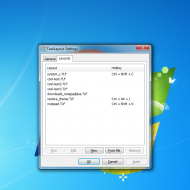 You can download actual version of TaskLayout(v0.6.0.0)
here
(3.13 MB).
Feedback, ideas and suggestions are welcome.
With Best Regards,
cshnik