1
« on: December 23, 2019, 06:26 PM »
As previously mentioned
here
and some other topics, FARR somehow incorrectly loads icons for 64bit programs.
A perfectly working shortcut's properties as shown by the system: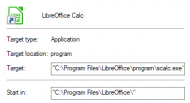 The exact same shortcut file, shown by farr:
Is there a solution (or acceptable workaround like some hack in farr) to this issue in sight, please? It has confused (only just found it was farr all along) and annoyed me for years by now. I read that it was actually fixed before but then regressed.