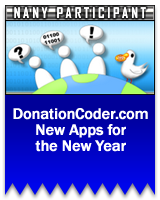 NANY 2018: ENTER NOW!
It's not too late to participate in the upcoming NANY 2018 event.
If you are a coder, any new program (or addon) that you have released in the previous year, which is freeware/donationware for home users is eligible.
And if you are not a coder, you can still participate by helping coders with ideas and testing.
To join in the adventure, visit: The NANY 2018 forum section.
---
NANY contests:
---
Find and Run Robot Has Fans

Find and run robot

is really the best implementation of a quick run command line program I've come across and I'm sure I've tried most of them. I don't know if you've tried the others out there yourself but 'find and run robot' definitely beats them.. Find and run is just perfect - if I can think of anything that might improve it I'll let you know. Really love the ONE key shortcut key for it - genius. Really love not having to set it all up for what words that are relevant for which programs. Really love the context menu to open up folders for particular listed files.

N.P.
You are viewing a specific blog item. Click here to return to the main blog page.
AccuTicket is a free ticketing application for concerts and/or events. The interface is easy to use, enabling quick creation and validation of tickets. Tickets can either be invalidated or deleted, once entered. If a ticket is invalidated, it will be marked as invalid, and that it has already been validated. If it is deleted, it can not be recovered for future use.

This program will be updated to include interface changes, updates, and the ability to sell tickets, as in a point of sale system.

posted by

dhuser

(

permalink

) (

read 4 comments

)