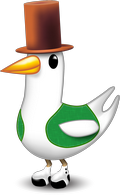 Interested in hiring us?
If you're interested in hiring us to do consulting, custom development, or customization of one of our software programs, please do not hesitate to contact us. To read more about our rates and policies, see: here.
---
Productivity Tip - Use Zonesize from DonationCoder

There are often times when you need to have 2 or more windows displayed on the same screen where you are using both programs at once. For instance you may be viewing a browser window while writing to another document. In these situations you may also want to drag and drop text or graphics from one window to the other.

Zonesize

allows you to have a predefined set of window sizes or zones to suit your working pattern.