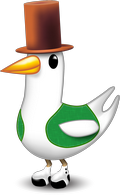 Interested in hiring us?
If you're interested in hiring us to do consulting, custom development, or customization of one of our software programs, please do not hesitate to contact us. To read more about our rates and policies, see: here.
---
May we recommend..

When I look back at the blog items I post linking to interesting developer essays and articles, many of them are originally from osnews.com. OSNews is a frequently updated blog that posts lots of small items every day. While nominally about operating systems, they really cover a much broader domain including websites and technology companies. They do an outstanding job of bringing early attention to interesting technology essays that I don't see mentioned elsewhere.