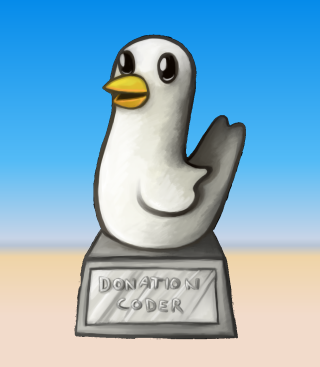 Please note: We are in the process of a major updating of the content on DonationCoder.com as of January 2018, and this page will be updated soon.
Our Favorite Websites
This page lists some of our long-time favorite websites -- sites we couldn't live without and sites that have been true friends to DonationCoder.com.
Have a Suggestion?
If you have a suggestion for a site that you think we should add to this list, let us know.
Editorial Integrity
DonationCoder does not accept paid promotions. We have a strict policy of not accepting gifts of any kind in exchange for placing content in our blogs or newsletters, or on our forum. The content and recommendations you see on our site reflect our genuine personal interests and nothing more.
---
Find and Run Robot Opinions on SnapFiles

I rely on this software every day on every computer I use regularly. I almost never click on the start button to start applications now, I use Find and Run Robot. Amazing piece of software... Find and Run Robot beats the pants off of other desktop search programs, including MSN, Google, and Yahoo Desktop search. This program is very fast, and has a high degree of customization regarding what files you want to search for and where to search. It does not consume hard disk space by indexing your files like other desktop search programs. Try this program out and you'll agree that it is lightning fast and probably the most useful desktop search program out there (and best of all, it's free). My best regards go out to the developers of this program... Simple/quick to use. Don't use the start menu again, and quickly find loads of stuff lost in those pesky menus! Doesn't use the registry and no nasties. I am just a happy user.
Our Favorite Websites
This page collects short descriptions of some of our favorite websites. It's our way of saying thanks to the sites we have come to love.
This page has not been updated for awhile but will be getting some new content soon! Please check out the rest of our fantastic website which is far more updated than this page!
You are viewing a specific blog item. Click here to return to the main blog page.
There are a ton of websites competing to offer you a daily helping of new and unusual discoveries on the internet, but few can hold a candle to

BoingBoing

, which sets the standard for coming up with new interesting items every day that you won't find anywhere else.

BoingBoing is short on business, law, politics, and slapstick humor -- and instead focuses on under-appreciated artists and creators, and on bringing the obscure to the public.

Visit Site:

http://boingboing.net

---

To see other posts on the DonationCoder forum that mention the BoingBoing website, click:

here

.




posted by

mouser

(

permalink

) (

read 18 comments

)