September 11, 2006

THE 2006 DONATIONCODER.COM C++ BUILDER DONATIONWARE PROGRAMMING CONTEST RESULTS

Discuss the contest on our forum.




About Judging The Results
There were many excellent submissions to the contest, and choosing winners was difficult and several of the decisions could honestly have gone either way. Judging was based on a number of criteria including completeness, documentation, polish, the existence of alternative free tools, the possibilities of improvement, the estimated difficulty of implementation, the usefulness/fun of the entry, and more. We categorized entries as described on our contest rules page, in order to ensure some diversity, but also awarded prizes to individual coders based on multiple entries.

Download and Try For Yourself!
One of the main points of this contest was to encourage the development of donationware software. On behalf of the authors we invite you to download and use these programs. If you find them useful, will you please consider making a donation to the authors to support their continued development?
TOP PRIZE WINNERS
Three entrants were chosen to receive our Top Prize Package (which included Borland's BDS 2006 Enterprise Edition):
Darko Kalinic & Nikola Labovic, Detlef Meyer-Eltz, and Sasko Usinov.
Darko Kalinic & Nikola Labovic won for their very professional SQL database management tool, SQL Advanced Manager: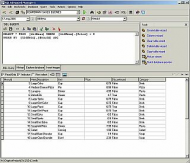 SQL Advanced Manager
SQL Advanced Manager is a great solution for:
-professionals and amateurs who in any manner work with databases, especially MS ACCESS
-students
-people who would like to learn SQL
It's main purpose is to work with database via SQL queries. However, it also provides many other things such as fast accessing to all the tables in the database, and also to all the fields in those tables…
Some main features are:
-Quick access to all the data in any table with just one mouse click
-Many tools and wizards which simplify working with your database
-Syntax assistant is also integrated into the program, so the beginners would not have any problems while learning SQL, and the professionals, on the other side, would have a quick reminder on basic SQL syntax.
-Many more..
Download:
Here
See more screenshots and read more about SQL Advanced Manager..
posted by
Blaster
- August 17, 2006, 07:12 AM
social bookmark this story
(
permalink
)
(
read 7 comments
)
Detlef Meyer-Eltz won for a pair of submissions using his excellent TextTransformer algorithms:
Sasko Usinov won for a very impressive new Programming IDE called SkyIDE. While it still has some rough edges, it looks to make a real splash:
MAIN PRIZE WINNERS
Seven coders received our Main Prize Package (which included Borland's BDS 2006 Professional Edition):
Reinhard Scharnagl, Malcolm Smith, Jake Greenwood, Gianni Luciani, Martin Nicholas, Tomasz Blajek, and Jim Kinsman.
Reinhard Scharnagl won for an extremely impressive Chess Tool and Game Engine:
Malcolm Smith won for one of the most polished and professional entries submitted, a powerful Cleanup tool designed for developers:
Jake Greenwood won for a delightfully clever and slick tool full of options for assembling random selections of music of a specific length (mixtapes):
Gianni Luciani won for Demina, a bizarre entry that won us over because of its surprisingly sophisticated implementation:
Martin Nicholas won for GameChat, an internet chat and multi-game system, that works very well despite it's somewhat dated appearance:
Our last two main prize winners won based not on a single standout program, but on a collection of programs.

Tomasz Blajek won for an odd combination of programs. Two wonderful little games (TPXonix and TPCube), and a utility for serious http debugging (HTTPJupiter):
Jim Kinsman won for his desktop utilities (a virtual desktop program, a dockable todo list, and flashcard tool) and Oracle database tool:
SPECIAL RECOGNITION PRIZE WINNERS
We chose three coders to receive a special unplanned Prize Package to encourage further development on their software, which included the new Borland Turbo C++ Professional:
Tran Chi Kien, Mark, and Piotr Jurga.
Tran Chi Kien won for his nicely done Database VCL component and promising PHP/ASP Web Server:
Mark won for his work on a motion detecting component using DSPack (not shown), and a well done accessible-keyboard desktop tool:
Piotr Jurga won for his work on a translation teaching tool to help in reading foreign language books:
OTHER NOTABLE ENTRIES
There were a lot of great entries which deserve recognition even though they didn't win a prize in the contest.