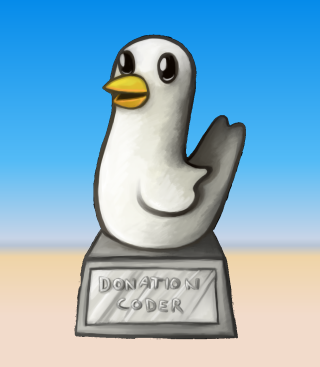 ---
New Apps for the New Year 2009

New Apps for the New Year (NANY) is the motto of the

Nany Challenge

over at Donation Coder. It's already the second year of the challenge and lots of new software programs have been released during that challenge. To be precise: 35 new and free software programs have been released which more than doubled the count of

last year

. Each application can be downloaded right away from the Donation Coder website and works without registration or other inconveniences..

Comparer

is a file comparison tool that can compare (among other things) all file properties.

File Replicator

is another interesting program. It can search for a certain file in a selected folder and replace that file with another one. Think of updating files that reside in multiple locations on the computer's hard drive.. I do not want to spoil the fun of exploring all those new programs.. It is definitely worth a visit; And who knows, maybe you find the program there that you have been searching for all of your life.
THE 2006 DONATIONCODER.COM C++ BUILDER DONATIONWARE PROGRAMMING CONTEST RESULTS
About C++ Builder
We are huge fans of Borland's C++ Builder here at DonationCoder.com. It's used in many of our more elaborate windows programs, and it's one of the most powerful tools for C++ programmers that want to do rapid development of rich Windows GUI applications.
About Judging The Results
There were many excellent submissions to the contest, and choosing winners was difficult and several of the decisions could honestly have gone either way. Judging was based on a number of criteria including completeness, documentation, polish, the existence of alternative free tools, the possibilities of improvement, the estimated difficulty of implementation, the usefulness/fun of the entry, and more. We categorized entries as described on our contest rules page, in order to ensure some diversity, but also awarded prizes to individual coders based on multiple entries.
Download and Try For Yourself!
One of the main points of this contest was to encourage the development of donationware software. On behalf of the authors we invite you to download and use these programs. If you find them useful, will you please consider making a donation to the authors to support their continued development?
You are viewing a specific blog item. Click here to return to the main blog page.
SQL Advanced Manager is a great solution for:

-professionals and amateurs who in any manner work with databases, especially MS ACCESS

-students

-people who would like to learn SQL

It's main purpose is to work with database via SQL queries. However, it also provides many other things such as fast accessing to all the tables in the database, and also to all the fields in those tables…

Some main features are:

-Quick access to all the data in any table with just one mouse click

-Many tools and wizards which simplify working with your database

-Syntax assistant is also integrated into the program, so the beginners would not have any problems while learning SQL, and the professionals, on the other side, would have a quick reminder on basic SQL syntax.

-Many more..

Download:

Here

See more screenshots and read more about SQL Advanced Manager..

posted by

Blaster

(

permalink

) (

read 7 comments

)