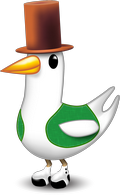 MEMBER STATUS
You are not signed into our forum, so your member status cannot be determined. Please sign in or register an account at the DonationCoder.com forum to be recognized.
Why Donate?
There are many benefits to becoming a donating member, including a permanent non-expiring license key for all of our programs, early access to beta releases and new reviews, discounts on popular shareware, and much more.
Donate now using PayPal and you'll receive your lifetime member activation code and non-expiring program license instantly via email.
Commitment To Integrity
None of our software contains toolbars, spyware, adware, or bundled software of any kind. We will refund any donation at any time with no questions asked. All donations are processed securely by trusted financial services; we do not receive your credit card or personal information when you donate, and we will not share your email address with anyone. For more information please read our Privacy Policy.
---
May we recommend..
Occasionally a friend of DC without a web site will release a program and ask us to host it. We've create the Miscelaneous Member Software Archive for this purpose.
There you will find some programs by DC member seedling, including: Random MixTape Maker, which takes a large collection of your mp3 files and creates playlists with a specified target duration; WTF Music Info, which will scan your music directories and give you a nice, graphical view of your music library.
Number of programs available: 3
Last updated: 2008
Visit the miscelaneous DC member archive page to browse apps and download them here: http://www.dcmembers.com/archive.
Generate a free temporary License Key
This page allows non-donors to instantly generate free temporary License Keys for our software.
If you have donated or purchased a License Key, please return to the main License Key page to retrieve your permanent Key.
Your License Key:
*r1;Tlazi5aR2ClqGezc24j79PAWVV0hvMxaUODtVkpumdfQ8ocRIsNvUrO bTSZpIS8c4f3u+MP/XWEygScphuiLmrWjGWMciOwhR7oQDqUqnsU/c1AtIWq xM3BhHNMQ3i1TQbU90yLNPsNHZILyiHf+WRs0olwQ193AJb4TwvO8FEU=;pm 6Gbyh/pi4=;opH0mB/EGbfCXyWK03ze8BHFyeXBMQPD+eq04yE4UucBzqQaa yOqL3ZIBpXwBKEVg94nzvyvWl4k6bAABnQ4q2/FOELEHTNCzxNbbsrimBXQg 4szNM8Lfix1iYPAbtCnnJTksFm6ace3R64KZOPmRCX3JwOeSThmdNwMi2TYp znh3xcVauyGgkn5O9VKAgBrLnEIquwGeuYFx+Xe3CK9Dh5M53Ul6dnvks2DI 03+WAvz3w9wo762yydyIP+aTdu0dumZD5KRWsKclM5m9V7bI8NqF1mNq1k5P gRUqPm0z0FhMAXkka+0lb+ME68JYG+nTr0ioz55HPO9Sr59lDWSxXIZWvKe0 6HbQ/3I9Vo1wdDlbzDJ/26CXWdn7tercDZolrsPv1xwWV8SXlmJ9VvZ9muyQ DKTesISX7Rv9ynPyQgc8gxPEBumrTFJjT/sbLssVxu5XvEi2dKcPu56IfzCV Jni5gYCGJhtjAnHnsTPcYx77JAYqXKOQg==
The license key above is made out to:
License name: Anonymous user
License email: n/a
License type: Temporary 60 day License
Note: Expires on Thursday December 12, 2019

Instructions for using your license key:
Select the entire multi-line key above beginning with the *r1, and hit Ctrl+C to copy it to the clipboard.
Install and run the program of ours that you want to activate, go to its Help menu and choose "About", then pres the button to enter your License Key.
Use Ctrl+V to paste your license key into the dialog.
For more detailed instructions and a video demonstration see this page.
If you'd like to have the license key made out to a different name/company/email, don't hesitate to contact us.