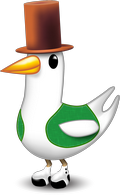 MEMBER STATUS
You are not signed into our forum, so your member status cannot be determined. Please sign in or register an account at the DonationCoder.com forum to be recognized.
Why Donate?
There are many benefits to becoming a donating member, including a permanent non-expiring license key for all of our programs, early access to beta releases and new reviews, discounts on popular shareware, and much more.
Donate now using PayPal and you'll receive your lifetime member activation code and non-expiring program license instantly via email.
Commitment To Integrity
None of our software contains toolbars, spyware, adware, or bundled software of any kind. We will refund any donation at any time with no questions asked. All donations are processed securely by trusted financial services; we do not receive your credit card or personal information when you donate, and we will not share your email address with anyone. For more information please read our Privacy Policy.
---
I honestly cannot say how I first heard of the donation coder website as it will be 10 years ago that I made my first donation to the site and I have no idea when I first visited the site.

As far why I decided to donate, I use your ScreenShot Captor program almost daily through the week and I enjoy the web site and other software as well. Thanks for the great software!

K.W.
Generate a free temporary License Key
This page allows non-donors to instantly generate free temporary License Keys for our software.
If you have donated or purchased a License Key, please return to the main License Key page to retrieve your permanent Key.
Your License Key:
*r1;SVzESr+FS8Lxce0WHriWDckcTt1vvi4OD67BV4ufJnf19c2JX+8jbJq RfN+lI3ke11tXYd8at742M5RUUcXK4XxrC+s8jgqGB8gtUZiODpzvO6Q2zuC Z7LC7EEBfl3O2ehoBn4qvW5AnktAuYi2FnRo3VBLAEtun3Hd+u3TpIc8=;Nv PCqYZ8Nkk=;04FfFVWdZ7AQqFnffMr+XRKqYwahtz2E7UPfR7pQDYKqNuTSy qmZC5tip2lII4X8ibrRKK8z86hB4Za+7x88nfOMJnNFttKYknjDXHMHJ0gc5 +EPLekmPpy9cTPBD0P9FlVccwTcBxNB+d3O1Bosg8kvGo9iusHt9C33IX2BH WWuO97m9tJEj14I+BN/WXFG2oxl4Haf5hqgm6wOHVm+JbaK6cT/W+7CoioXj xlg9GwUZ2YDUUqm/LLlr8zEdXKvxclE8FUIzRXU7PsoX4/+CuguAPFZo4TbL DWfUUJE0+m+sjpJ1ZBWtp5EePHl0V41QDQaXv+LYFjVV0U2tPa+AOUu621zl PrBTmgT1cZuoJgop3aNoevh6TcVPLPUbNCeZmrqV2ZCFmWE7bYrLTqnW7KwT UIL1xp8gbQgUASzWEIPNQDD0V1NHf2EQgQMPXwwlX7ILI7aLxqGJ7LpD1pgn h62UL0nqTtGqfHiyt32fxpcl5hvAvD/pA==
The license key above is made out to:
License name: Anonymous user
License email: n/a
License type: Temporary 60 day License
Note: Expires on Thursday August 23, 2018

Instructions for using your license key:
Select the entire multi-line key above beginning with the *r1, and hit Ctrl+C to copy it to the clipboard.
Install and run the program of ours that you want to activate, go to its Help menu and choose "About", then pres the button to enter your License Key.
Use Ctrl+V to paste your license key into the dialog.
For more detailed instructions and a video demonstration see this page.
If you'd like to have the license key made out to a different name/company/email, don't hesitate to contact us.