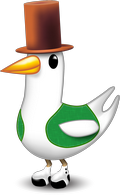 MEMBER STATUS
You are not signed into our forum, so your member status cannot be determined. Please sign in or register an account at the DonationCoder.com forum to be recognized.
Why Donate?
There are many benefits to becoming a donating member, including a permanent non-expiring license key for all of our programs, early access to beta releases and new reviews, discounts on popular shareware, and much more.
Donate now using PayPal and you'll receive your lifetime member activation code and non-expiring program license instantly via email.
Commitment To Integrity
None of our software contains toolbars, spyware, adware, or bundled software of any kind. We will refund any donation at any time with no questions asked. All donations are processed securely by trusted financial services; we do not receive your credit card or personal information when you donate, and we will not share your email address with anyone. For more information please read our Privacy Policy.
---
Elite Freeware on DonationCoder.com

Donationcoder.com

the site where i have found many of the greats apps that i have featured in my blog like

FAAR

and

WishList

is having a fundraiser to help pay it's hosting expenses which are a lot, so if you have a few bucks laying around please consider

making a donation to the site

. Usually i wouldn't make an appeal for another site but Donation coder is special to me, it hosts a large number of good apps while also having one of the nicest communities that i have ever seen in a forum, sometimes people there will try make a program based on a request that you made which is simply awesome! I already

donated

and i hope that you do too if you can, Donation Coder is worth it in my opinion.
Generate a free temporary License Key
This page allows non-donors to instantly generate free temporary License Keys for our software.
If you have donated or purchased a License Key, please return to the main License Key page to retrieve your permanent Key.
Your License Key:
*r1;m3MK4xxAVIx+sZqgfCBKCMaaBhRhEwFYxiOb7fYddgnVIyz4kr43cIk Irmc0XMfoUbuHpQcshafClaAa6i9mhtFAk2w7Zu9fICdBQ492h8zOHH3w/7W 1umxK+vMy8zR/Dml6nJ0Mxx+iElwsEYTrUVzWF7sBgKXg6rsWxg+ojL0=;Dp 31cC4bvkM=;4uYs0w9sBY2XVvvkRXDC16Jk97Lgg8/SrhSac5NntP2bFDHHO 02h6vNLnMAPATfkg77i7wk+jYLM1379cb5gusdEQRQX1f4QQQSCmyBOguCo4 F3Fv20Al389bLktYbDl5CQ4Nm+L0ydeWsIUFe/zmH4O+5QbEC3nc626AMBlo +CarmUz425IIupUyZ8DAD0VSrQP15FEkKV8210hfcDs/uUveXuWk6MvvWAsQ 2+ZbLgi3SOa7/4t5kiPsJo8ZAR8+chvYtlUgQGdukRYnrZAvn/EVYOwTPduk ABYOQ5CR8LA225cka4JG1v61tA6cBa/cohKFIPS1pWs/poXNA1QOYqZ1i+m8 ped4tiSBSKMjNFw1TAAkSqRPiSKIEb7fgMQJapMKkdb1kEjzxp5sYth0vRfY 1DLu/lNqeFed2t7UtVCaL1a3hNyxEstiZL4h7/Kw1p41RFqrLdiK55Pkj1W3 OtMV0wRm7EMaxIXPbK4af+VS/3VdJFpUw==
The license key above is made out to:
License name: Anonymous user
License email: n/a
License type: Temporary 60 day License
Note: Expires on Wednesday April 25, 2018

Instructions for using your license key:
Select the entire multi-line key above beginning with the *r1, and hit Ctrl+C to copy it to the clipboard.
Install and run the program of ours that you want to activate, go to its Help menu and choose "About", then pres the button to enter your License Key.
Use Ctrl+V to paste your license key into the dialog.
For more detailed instructions and a video demonstration see this page.
If you'd like to have the license key made out to a different name/company/email, don't hesitate to contact us.