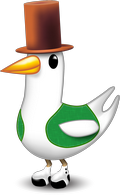 MEMBER STATUS
You are not signed into our forum, so your member status cannot be determined. Please sign in or register an account at the DonationCoder.com forum to be recognized.
Why Donate?
There are many benefits to becoming a donating member, including a permanent non-expiring license key for all of our programs, early access to beta releases and new reviews, discounts on popular shareware, and much more.
Donate now using PayPal and you'll receive your lifetime member activation code and non-expiring program license instantly via email.
Commitment To Integrity
None of our software contains toolbars, spyware, adware, or bundled software of any kind. We will refund any donation at any time with no questions asked. All donations are processed securely by trusted financial services; we do not receive your credit card or personal information when you donate, and we will not share your email address with anyone. For more information please read our Privacy Policy.
---
I Googled for spell checkers and first came across Tinyspell and looked at various alternatives.

While Tinyspell shows errors as you type, it wasn't as easy to check existing text which is why I went for Clipboard Help & Spell, which overall suited my needs more, which is why I chose to donate.

Phil
Generate a free temporary License Key
This page allows non-donors to instantly generate free temporary License Keys for our software.
If you have donated or purchased a License Key, please return to the main License Key page to retrieve your permanent Key.
Your License Key:
*r1;P8GDf7vLTIfVYUAwZ5MZtk/6Jmgz4KAtld25YeQuvo60PuGaWeR0vEx KO7KubuBYvu4J/DidXSqIx9AfUKd16J1M8U6v+aMwgNpCdzRbffttyE6LYMu VFDR0XMtwgNNCPVMbEf8WXGQPaU2pyZff1ulwG0EpDNWZzy9fzdbli2Y=;7/ XyRrNuDXQ=;HvFDbNnyRQHPSUVY/fcu6E7R0qi66VuDIU1dnew0MEskH3u52 bjAg64x5qvbMkVZM9CXJ99K1O6aAkv4e1+dug+C/yVzuHw8VPUfqdItjC9JT o//hiRLEymUVPuU0wrtQ3cdrxiNEjt3lqTDU6LFTZtjoqNPK5YBh3xVCPFUm dJyg3XejzazpF5s/kbBnx1BxO5Ib5PkyJzRtOzQL1XvjiAn6nWUXTLN6k7N/ EOqT+WlmQAoGqHJWbIBpWCjsmi7j3iQMzRmNVDoZqr9kP8EVgGxRulW0haz8 KeDcjaNPGbwqIJjb66hcs7KE9WCNMsGnS7jvtL/a4QGbYgcxPxTe01sAjzpw T498aI3jj02kROrsFJCm0906DnnvhIS/OiM5QAlNTTTg4VheutVTSC2z8sXg uinROBXSGWxqmhTzj/3qCSAvXrud6naNY2dZi0MVZIqwl79ZAWPpEpx3cBXK o79GEIjVweVxB7Tz/z2Ue5/9GzdZr+5nA==
The license key above is made out to:
License name: Anonymous user
License email: n/a
License type: Temporary 60 day License
Note: Expires on Wednesday July 24, 2019

Instructions for using your license key:
Select the entire multi-line key above beginning with the *r1, and hit Ctrl+C to copy it to the clipboard.
Install and run the program of ours that you want to activate, go to its Help menu and choose "About", then pres the button to enter your License Key.
Use Ctrl+V to paste your license key into the dialog.
For more detailed instructions and a video demonstration see this page.
If you'd like to have the license key made out to a different name/company/email, don't hesitate to contact us.